2018 Toyota Corolla IM 5 HB FWD
Safety Ratings.
NHTSA's 5-Star Safety Ratings help consumers compare vehicle safety when searching for a car. More stars mean safer cars.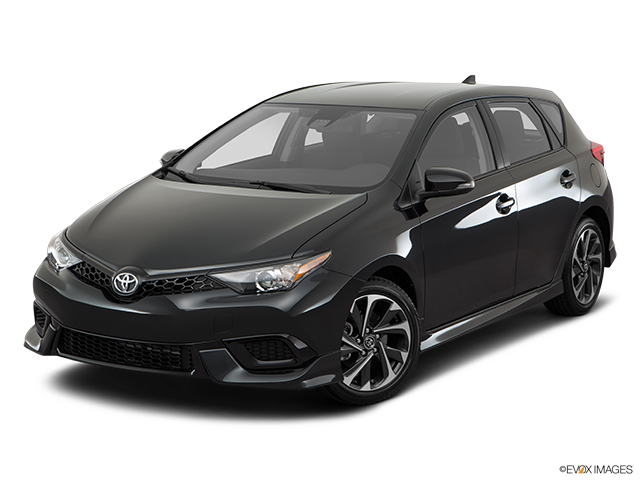 Frontal Crash
Side Crash
Rollover
Overall Front Star Rating
Combines Driver and Passenger star ratings into a single frontal rating. The frontal barrier test simulates a head-on collision between two similar vehicles, each moving at 35 mph.
Combines Side Barrier and Side Pole Star Ratings into a single side rating.
Overall Side Pole Star Rating
Combines Side Barrier and Side Pole Star Ratings into a single side rating.
The Rollover Resistance test measures the risk of rollover in a single-vehicle, loss-of-control scenario.
6 Complaints
for 2018 TOYOTA COROLLA IM
Components: STEERING,POWER TRAIN,LANE DEPARTURE
Incident Date:
12/06/2021
Vehicle Identification Number:
Jtnkarje1jj******
Summary
The steering wheel locks and unable ro drive
Incident Date:
11/26/2021
Vehicle Identification Number:
JTNKARJE2JJ******
Summary
The contact's daughter owns a 2018 Toyota Corolla. The contact stated while his daughter was at a standstill at a traffic light when another vehicle rear-ended her and pushed her forward causing her to crash into the front vehicle. The contact stated the air bags failed to deploy. The driver sustain head, neck and back injuries, had bruises around the pelvic area, due to the seat belt. The rear driver passenger (granddaughter) sustained neck and head injuries. The contact stated both seek medical attention at a near hospital. A police report was filed. The vehicle was not drivable. The vehicle was towed to a body shop. The vehicle was not diagnosed or repaired. A dealer was not contacted. The manufacturer had not been informed of the failure. The failure mileage was 32,365.
Components: EXTERIOR LIGHTING,SERVICE BRAKES,FORWARD COLLISION AVOIDANCE
Incident Date:
10/26/2021
Vehicle Identification Number:
jtnkarje1jj******
Summary
ok so what had happen is the cars so call foward collision of the speific car did nit work steering wheel lock when i made a left turn and i hit a curve lane departure did not work or anything i just hit the curve and not too long ago on sept 2021 i had a fender bender and i stepped on the brakes and car still slid without even going fast
Components: FUEL/PROPULSION SYSTEM
Incident Date:
07/06/2021
Vehicle Identification Number:
JTNKARJE7JJ******
Summary
I was driving came to a stop at red-light, car was idling and I felt a jerk from back, once light turned green car had loss of power when acceleration and didn't want to go. This incident happened on 5 different occasions starting in July 2021 into August
Incident Date:
01/10/2020
Vehicle Identification Number:
JTNKARJEXJJ******
Summary
I WAS DRIVING AT 65 MILES PER HOUR ON THE FREEWAY SUDDENLY THE RPM IDLE WHEN TO ALMOST 700 RPM AND QUICKLY DROPPED TO 0 RPM AND STARTED LOOSING SPEED , MY BRAKES WERE HARD TO PRESS .AND WE QUICKLY NOTICE THAT THE TRANSMISSION BLEW OUT.
Components: STEERING,SUSPENSION,UNKNOWN OR OTHER
Incident Date:
07/28/2018
Vehicle Identification Number:
JTNKARJE0JJ******
Summary
2018 TOYOTA MATRIX IM THIS IS A LETTER ADDRESSING THE VEHICLES THAT ARE BEING SOLD AND DISTRIBUTED IN MY STATE OF CALIFORNIA. AS AN AMERICAN TO THIS BEAUTIFUL NATION, UNITED STATES OF AMERICA, I'M APPALLED TO FIND THAT TOYOTA MOTOR SALES, U.S.A. IS LOSING BUSINESS AND HAVING COPYCATS OR AS I MAY CALL THEM TOYS 'SOLD' ON BEHALF OF A RELIABLE AND REPUTABLE COMPANY. AS A CHILD I NEVER PLAYED WITH TOYS AND HAVE ALWAYS HAD MY EYES IN BOOKS AND ON THE PRIZE. AS A MAN I KNOW I DON'T DESERVE A CAR THAT IS A HOT WHEEL PROTOTYPE. I WAS GRATEFUL THAT CAPITAL ONE AUTO FINANCE EXTENDED A LOAN TO FINANCE THIS VEHICLE AND WOULD EVENTUALLY LEAD TO OWNERSHIP.MY FINDINGS AND RESEARCH HAVE DETERMINED THAT I DID NOT RECEIVE WHAT TOYOTA MOTOR SALES, U.S.A.;INC. IMPORTANCE IS ABOUT 'WE BUILD CARS AND TRUCKS THAT HELP YOU AND YOUR FAMILY GO PLACES RELIABLY AND SAFELY.' (HTTPS://WWW.TOYOTA.COM/USA/OUR-STORY/INDEX.HTML).THE VEHICLE I RECEIVED FROM FREEWAY TOYOTA LOCATED AT 1835 GLENDALE AVE, HANFORD, CA 93230 IS NOT WHAT TOYOTA'S LIFELONG PHILOSOPHY FOR CONSUMER'S SAFETY SHOULD BE. THE VEHICLE CAME WITH UPGRADED PARTS THAT WERE INSTALLED BY THE DEALERSHIP. I DO NOT FEEL COMFORTABLE OR SAFE IN THIS VEHICLE. AN UNUSUAL SMELL COMING FROM THE ENGINE HAS BEEN LINGERING FROM DAY ONE OF THE PURCHASE. I DISREGARDED THE SMELL FOR A FEW WEEKS AND ADDRESSED MY CONCERN TO THE SERVICE DEPARTMENT AFTER THE VEHICLE HAS BEEN GIVING ME EXTREME HEADACHES. THE SERVICE DEPARTMENT ADVISED THE CVT TRANSMISSION IS CONFORMED TO OPERATE WITH A SMELL THAT WILL LAST FOR SEVERAL MONTHS AND EVENTUALLY DISAPPEAR. TO MY DISCOVERY I FOUND THAT THERE ARE STYROFOAM PIECES THAT ARE PLACED UNDER THE FLOOR MAT, ONE DISTINCTIVELY UNDER THE BRAKE PEDAL AREA WHICH IS A SERIOUS SAFETY CONCERN FOR CONSUMERS. FROM PERSONAL USE I KNOW THAT STYRFOAM IS MAINLY USED TO KEEP LIQUIDS THAT ARE EITHER HOT OR COLD AT THE DESIRED TEMPERATURE.
0 Recalls
for 2018 TOYOTA COROLLA IM
Get started for free
Get a free preview of the report