2018 Toyota Prius PRIME 5 HB FWD
Safety Ratings.
NHTSA's 5-Star Safety Ratings help consumers compare vehicle safety when searching for a car. More stars mean safer cars.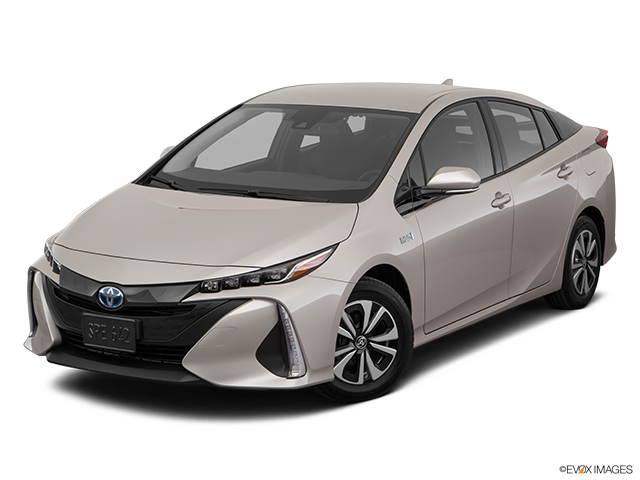 Frontal Crash
Side Crash
Rollover
Overall Front Star Rating
Combines Driver and Passenger star ratings into a single frontal rating. The frontal barrier test simulates a head-on collision between two similar vehicles, each moving at 35 mph.
Combines Side Barrier and Side Pole Star Ratings into a single side rating.
Overall Side Pole Star Rating
Combines Side Barrier and Side Pole Star Ratings into a single side rating.
The Rollover Resistance test measures the risk of rollover in a single-vehicle, loss-of-control scenario.
6 Complaints
for 2018 TOYOTA PRIUS PRIME
Components: BACK OVER PREVENTION,FORWARD COLLISION AVOIDANCE
Incident Date:
11/15/2018
Vehicle Identification Number:
JTDKARFP0J3******
Summary
From the first week of ownership sensors would alarm that they needed cleaning but they were clean. Parking assist sensors also malfunctioning. Also saw Intelligent Clearance Sonar error messages and warnings. Alarm tended to go off in wet weather. Brought to dealership many times and problem occurred infrequently that no problem was ever found. For two years I was plagued by alarms of sensor malfunction. I worried the sensors would fail to detect cars and objects in front of, behind or on the side of the car. That would be a serious failure and cause of an accident. After two years of unsuccessful testing, I traded in the car.
Components: EXTERIOR LIGHTING
Incident Date:
01/28/2021
Vehicle Identification Number:
JTDKARFP4J3******
Summary
WHILE DRIVING ON RURAL ROADS WITH NO STREET LIGHTS, THE AUTOMATIC HIGH BEAM SYSTEM MALFUNCTIONS WHEN PASSING ONCOMING TRAFFIC WHO DO NOT DIM THEIR HEADLIGHTS OR WHO HAVE THOSE HEADLIGHTS THAT SHOULD BE ILLEGAL (LIKE FORD). NORMAL LOW-BEAM HEADLIGHTS DO NOT CAUSE THE SYSTEM TO MALFUNCTION. I BELIEVE THIS MALFUNCTION TO BE RELATED TO THE CAMERA SENSOR LOCATED ON THE WINDSHIELD AND WHEN THE GLARE OF THE EXCESSIVELY BRIGHT HEADLIGHTS HIT THAT SENSOR, IT CRASHES THE AUTO SYSTEM. THE SYMBOL ON THE DASH THAT INDICATES THAT THE SYSTEM IS WORKING NORMAL CUTS OFF FOR APPROXIMATELY 25-30 SECONDS, DURING WHICH TIME THE HIGH BEAMS WILL NOT ENGAGE. AFTER THAT 30 SECOND DELAY, THE SYSTEM REBOOTS, THE LIGHT ON THE DASH COMES BACK ON AND THE HIGH BEAMS RE-ENGAGE. THIS IS DANGEROUS AS ALL MANNER OF WILDLIFE CROSS THAT ROAD AT NIGHT AND WITHOUT BRIGHT LIGHTS, MY REACTION TIME IS CUT IN HALF. I HAVE TALKED TO THE TOYOTA DEALERSHIP ABOUT THIS ISSUE SINCE I PURCHASED THIS CAR IN MAY OF 2019 TELLING THEM THERE IS A MALFUNCTION IN THE SYSTEM, AND WAS INITIALLY INFORMED THAT THIS WAS NORMAL FUNCTIONALITY. I OWNED A 2017 PRIUS PRIME ADVANCED (ONE YEAR OLDER THAN THIS ONE) AND IT NEVER MALFUNCTIONED, SO I KNOW THIS IS A MALFUNCTION IN THE SYSTEM. AFTER SPEAKING WITH THE SERVICE MANAGER IN DEPTH ABOUT MY EXPERIENCE WITH THIS ISSUE, HE FINALLY UNDERSTOOD THAT THIS IS AN ISSUE AND NOT NORMAL FUNCTIONALITY. THEY HAVE KEPT MY CAR SEVERAL TIMES TRYING TO RECREATE THE FAILURE, BUT UNLESS THEY DRIVE OUT IN THE MIDDLE OF NOWHERE (SUPER DARK) AND COME ACROSS SOMEONE WITH "TOO-BRIGHT" HEADLIGHTS, IT IS UNLIKELY THEY WILL ACCOMPLISH A FAILURE. I WAS ALSO TOLD THAT TOYOTA DID NOT KNOW ANYTHING ABOUT THIS ISSUE. I HAVE SINCE DONE THE RESEARCH AND FOUND THAT THIS HAS BEEN AN ISSUE SINCE AT LEAST 2017, AND OCCURS ON VARIOUS TOYOTA MODELS (PRIUS, AVALON, RAV4, ETC...). I HAVE VIDEO OF THE FAILURE.
Components: FUEL/PROPULSION SYSTEM
Incident Date:
01/11/2021
Vehicle Identification Number:
JTDKARFPXJ3******
Summary
SUPPLEMENT TO COMPLAINT # 11384074 THE VEHICLE HAD THE SAME PROBLEM ON JANUARY 11 AND 12, 2021 AT APPROXIMATELY 7 AM. SPEED WAS 76 MPH, AND THE FUEL DEPRIVATION OCCURRED FOR 8-10 SECONDS EACH TIME. THE VEHICLE HAS NEVER HAD THE PROBLEM GOING HOME AT 2 PM.
Incident Date:
12/01/2020
Vehicle Identification Number:
JTDKARFPXJ3******
Summary
AFTER THE HYBRID BATTERY IS DISCHARGED, AND THE GAS ENGINE KICKS IN, THE VEHICLE LOSES POWER FOR APPROXIMATELY 5-10 SECONDS ON THE FREEWAY. THIS HAS HAPPENED FOUR TIMES, AT APPROXIMATELY 7 AM, ON DECEMBER 1, 10, 14 AND 15. ON ALL OCCASIONS, THE TEMPERATURE WAS BETWEEN 40-45 DEGREES FAHRENHEIT, AND AT HIGHWAY SPEEDS. THE CRUISE CONTROL WAS NOT IN USE. NO WARNING LIGHTS CAME ON. I CALLED THE TOYOTA DEALER ON DECEMBER 1 AND THE SERVICE ADVISER SAID THAT SINCE NO WARNING LIGHTS CAME ON, HE COULD NOT DETERMINE THE PROBLEM. I HAVE A PHOTO SHOWING MY CONTACTING THE TOYOTA DEALER ON DECEMBER 1ST. ON DECEMBER 10, I TOOK THE VEHICLE INTO TOYOTA IN THE AFTERNOON. THE DEALER CHECKED THE VEHICLE AND ROAD TESTED THE VEHICLE WITHOUT HAVING THE HYBRID BATTERY CHARGED, AND THE AIR TEMPERATURE WAS WARMER. I WAS CHARGED $210 FOR THE DIAGNOSTIC SERVICE, ALTHOUGH I HAVE AN EXTENDED WARRANTY. THE SAME PROBLEM OCCURRED ON DECEMBER 14 AND 15. SPECIFIC PROBLEM UNKNOWN BUT I BELIEVE THAT A SWITCH THAT CONTROLS THE GASOLINE VOLUME INTO THE ENGINE AFTER THE HYBRID BATTERY POWER IS DEPLETED IS DEFECTIVE. I WAS IN THE CARPOOL LANE AT APPROXIMATELY 7 AM ON ALL 4 OCCASIONS AND MY SPEED DROPPED, ALTHOUGH I DEPRESSED THE GAS PEDAL TO MAXIMUM AS WELL AS PUMPING THE GAS PEDAL, ALL TO NO AVAIL. THE CAR IS IN USE ONLY MONDAY, TUESDAY, WEDNESDAY AND THURSDAY, THE DAYS THAT I WORK. I CONTACTED TOYOTA CUSTOMER ADVOCATE (800-331-4331, CASE # 2012120505) AND THEY SAID THEY DID NOT HAVE THE ABILITY TO DETERMINE IF ANYONE ELSE EVER HAD THE SAME PROBLEM.
Components: ELECTRICAL SYSTEM,FUEL/PROPULSION SYSTEM
Incident Date:
11/10/2020
Vehicle Identification Number:
JTDKARFP3J3******
Summary
'HYBRID SYSTEM FAILURE' APPEARED ON DASH DISPLAY DURING A LONG (120 MILE) DRIVE AT HIGHWAY SPEED ON SEPTEMBER 24. AFTER DRIVING ABOUT 40 MILES FURTHER, THE 'CHECK ENGINE LIGHT' CAME ON AND THE DISPLAY SAID TO PULL OVER IMMEDIATELY. AS I PULLED OFF THE FREEWAY, MESSAGES TOLD ME THE POWER STEERING AND POWER BRAKES WERE SHUTTING OFF AND LEFT ME IN FEAR THE CAR WOULD DIE ON THE FREEWAY RAMP BEFORE I COULD PULL OVER. TOWED CAR TO DEALER WHO FIXED A LOOSE CABLE. THIS WEEK (11/10) THE DISPLAY SHOWED THE SAME MESSAGE. THIS IS NOW A RECURRING PROBLEM WITH THIS MODEL.
Components: UNKNOWN OR OTHER
Incident Date:
02/06/2020
Vehicle Identification Number:
JTDKARFP8J3******
Summary
AFTER STARTING FROM A STOP AFTER THE TRAFFIC LIGHT TURNED GREEN, THE CAR IN FRONT OF ME PULLED AHEAD AS THEY ACCELERATED FASTER THAN ME. WHEN THE CAR IN FRONT OF ME WAS ABOUT 50 YARDS IN FRONT OF ME, AND I HAD REACHED ABOUT 25 MILES PER HOUR THE CAR'S COLLISION AVOIDANCE SYSTEM ENGAGED AND SLAMMED ON THE BRAKES AND BROUGHT ME TO A FULL STOP. THE CAR IN FRONT OF ME HAD NOT APPLIED THEIR BRAKES OR SLOWED AT ALL, AND THERE WERE NO VISIBLE OBSTACLES. MY CAR STOPPED SO SUDDENLY THAT I THOUGHT I HAD BEEN HIT FROM THE REAR AT HIGH SPEED UNTIL THE RED WARNING LIGHTS APPEARED ON THE DASH (AFTER THE BRAKING STARTED). THE CARS BEHIND ME ALMOST RAN INTO ME BECAUSE OF THE SUDDEN STOP.
0 Recalls
for 2018 TOYOTA PRIUS PRIME
Get started for free
Get a free preview of the report