Safety Ratings.
NHTSA's 5-Star Safety Ratings help consumers compare vehicle safety when searching for a car. More stars mean safer cars.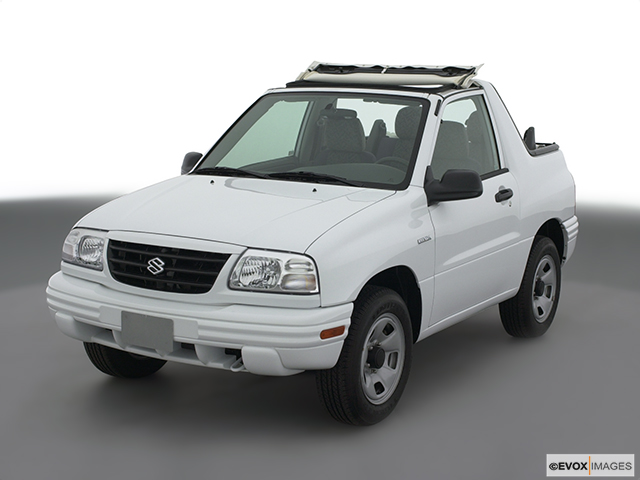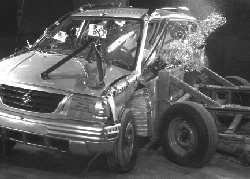 Frontal Crash
Side Crash
Rollover
Overall Front Star Rating
Combines Driver and Passenger star ratings into a single frontal rating. The frontal barrier test simulates a head-on collision between two similar vehicles, each moving at 35 mph.
Combines Side Barrier and Side Pole Star Ratings into a single side rating.
Overall Side Pole Star Rating
Combines Side Barrier and Side Pole Star Ratings into a single side rating.
The Rollover Resistance test measures the risk of rollover in a single-vehicle, loss-of-control scenario.
7 Complaints
for 2002 SUZUKI VITARA
Incident Date:
05/15/2009
Summary
TL*THE CONTACT OWNS A 2002 SUZUKI VITARA. THE CONTACT RECEIVED A SAFETY RECALL NOTICE FOR THE SUSPENSION AND TOOK THE VEHICLE TO THE DEALER FOR REPAIR. THE TECHNICIAN STATED THAT THE RECALL REMEDY COULD NOT BE PERFORMED UNLESS ANOTHER COMPONENT WAS REPLACED. THE REPAIR COST WAS ESTIMATED AT $900. THE RECALL DEFECT HAS NOT BEEN REPAIRED DUE TO THE ADDITIONAL REPAIR THAT WAS REQUIRED. THE VEHICLE IS CURRENTLY NOT BEING DRIVEN. THE VIN WAS NOT ACCEPTED BY THE SYSTEM. THE NHTSA CAMPAIGN ID NUMBER AND MILEAGES WERE UNKNOWN.
Components: SERVICE BRAKES, HYDRAULIC
Incident Date:
06/24/2005
Vehicle Identification Number:
2S3TC52C226******
Summary
AFTER SEVERAL MISDIAGNOSES FOR THE SAME PROBLEM WITH MY CAR GOING INTO GEARS THE PROBLEM WAS RESOLVED TWO MONTHS AFTER THE CAR WENT OUT OF WARRANTY. I WAS CHARGED TO FIX THE PROBLEM WHICH WAS COMPLETELY UNFAIR. THE FIRST TIME I BROUGHT THE CAR IN THE SERVICE MANAGER SAID I WASN''T PUSHING HARD ENOUGH ON THE BRAKE. THE SECOND TIME HE SAID IT WAS DO TO THE COLD WEATHER. THE THIRD TIME HE SAID THAT UNTIL THE CAR COULD NEVER GET BACK INTO GEAR HE WAS UNABLE TO FIX IT UNDER WARRANTY. THE FOURTH TIME HE FIXED A PART AND IT STILL HAD THE SAME PROBLEM. THE FIFTH TIME I TOOK IT TO ANOTHER SUZUKI DEALERSHIP WHERE THEY PROCEEDED TO TELL ME THAT THE OTHER DEALERSHIP DID NOT INSTALL THE PART CORRECTLY. THEN THE SIXTH TIME THEY SAID IT IS A DIFFERENT PART AND FIXED IT AND CHARGED ME BECAUSE IT IS OUT OF WARRANTY. THIS PROBLEM TOOK ONE YEAR AND ONE MONTH TO FIX. THE DISTRICT MANAGER SAID BECAUSE IT IS OUT OF WARRANTY THAT HE WOULD NOT APPROVE THE COST OF FIXING IT. EVEN THOUGHT THE PROBLEM STARTED AFTER ONLY TWO YEARS OF ME OWNING THE CAR AND WAS CLEARLY BACK WHEN IT WAS UNDER WARRANTY. THE CAR TO THIS DATE STILL DOESN''T HAVE 30,000 MILES ON IT.
Components: FUEL SYSTEM, GASOLINE
Incident Date:
08/17/2004
Vehicle Identification Number:
JS1VS53AXX2******
Summary
WHILE DRIVING CONSUMER NOTICED THAT SMOKE WAS COMING FROM UNDERNEATH THE MOTORCYCLE. CONSUMER PULLED OVER, AND MOTORCYCLE CAUGHT ON FIRE. CONSUMER EXTINGUISHED THE FIRE, AND HAD VEHICLE TOWED TO THE DEALER. *AK
Components: ELECTRICAL SYSTEM
Incident Date:
04/02/2003
Vehicle Identification Number:
JS1VS54A022******
Summary
THE CONSUMER TURNED THE KEY TO THE "ON" POSITION AND THE BIKE'S IGNITION ENGAGED AND CAUSED SUDDEN ACCELERATION WHICH RESULTED IN A CRASH. THE CONSUMER INDICATED THAT TURNING THE KEY TO THE "ON" POSITION IS ONLY SUPPOSE TO GIVE THE VEHICLE POWER. THE CONSUMER NORMALLY HAS TO HOLD THE CLUTCH LEVER IN AND PRESS START BUTTON FOR THE MOTORCYCLE TO ENGAGE. THE DEALER ADVISED THAT THE ENTIRE WIRING HARNESS HAS TO BE REPLACED. THE VEHICLE IS A 2002 SUZUKI VOLUSIA VL800 BK2 MOTORCYCLE. *NLM *TT
Components: ENGINE AND ENGINE COOLING
Incident Date:
12/13/2002
Vehicle Identification Number:
PLEASE PROV******
Summary
CONSUMER STATED THAT WHILE DRIVING AND WITHOUT WARNING OIL IS LEAKING FROM THE ENGINE CAUSING A DISTRACTION TO THE CONSUMER. DEALER NOTIFIED. TS
Incident Date:
11/29/2002
Summary
MODEL DR200 SEK2; THE DRIVE CHAIN ON THE MOTORCYCLE CAME WHILE TRAVELING 3-4 MPH. THE CAUSE IS STILL UNKNOWN WITH THE OWNER INSPECTING THE CHAIN TO MAKE SURE THE CHAIN OPERATED WITH MANUFACTURES' SPECIFICATION(S). PLEASE DESCRIBE DETAILS. TS
Components: FUEL SYSTEM, GASOLINE
Incident Date:
07/15/2002
Vehicle Identification Number:
JS1VT53A922******
Summary
FROM NEW THROUGH APPROXIMATELY 2000 MILES (WHEN THE DEFECTIVE PART WAS REPLACED), THE VEHICLE WOULD STALL ABRUPTLY WHEN THE THROTTLE WAS APPLIED FROM A STAND STILL. THIS HAPPENED SIX TIMES AND EACH WAS AT AN INTERSECTION WHERE TRAFFIC BEHIND ME COULD HAVE COLLIDED WITH THE VEHICLE AND CAUSED SERIOUS INJURY AS IT IS A MOTORCYCLE. THE SELLING DEALERSHIP WAS CONTACTED AND THEY INITIALLY HAD NO SERVICE BULLETINS REGARDING THE POSSIBLE CAUSE. REPEATED ATTEMPTS TO GET INFORMATION FROM THE MANUFACTURER SUZUKI WERE UNSUCCESSFUL. THEY LOGGED THE COMPLAINT WITH THE DECLARATION THAT THEY HAD NO REPORTS OF SUCH FAILURES AND SUGGESTED I CONTACT THE DEALERSHIP WHICH I HAD. THE DEALER FINALLY GOT UNOFFICIAL WORD THAT THE THROTTLE POSITION SENSOR MAY BE AT FAULT. IT WAS REPLACED UNDER WARRANTY AND THE PROBLEM SOLVED. I HAVE SPOKEN WITH OTHERS WITH THE SAME MODEL MOTORCYCLE WHO EXPERIENCED SIMILAR STALLING AND THEY WERE UNSUCCESSFUL WHEN THEY CONTACTED THE MANUFACTURER AS WELL. IT IS MY CONCERN THAT MOTORCYCLES ARE BEING SOLD THAT COULD STALL UNEXPECTEDLY AND WITHOUT WARNING CAUSING A SERIOUS ACCIDENT. EVEN THOUGH MY BIKE IS FIXED, I WOULD LIKE TO SEE THE MANUFACTURER TAKE RESPONSIBILITY INSTEAD OF REMAINING IGNORANT. A RECENT CALL TO THEIR CUSTOMER SERVICE NUMBER BY A FRIEND REVEALED THEY STILL DENY ANY KNOWLEDGE OF SUCH A PROBLEM EXISTS, DESPITE SEVERAL OWNERS PREVIOUSLY REPORTING DIRECTLY TO THEM! DT
0 Recalls
for 2002 SUZUKI VITARA
Get started for free
Get a free preview of the report