Safety Ratings.
NHTSA's 5-Star Safety Ratings help consumers compare vehicle safety when searching for a car. More stars mean safer cars.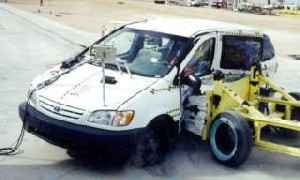 Frontal Crash
Side Crash
Rollover
Overall Front Star Rating
Combines Driver and Passenger star ratings into a single frontal rating. The frontal barrier test simulates a head-on collision between two similar vehicles, each moving at 35 mph.
Combines Side Barrier and Side Pole Star Ratings into a single side rating.
Overall Side Pole Star Rating
Combines Side Barrier and Side Pole Star Ratings into a single side rating.
The Rollover Resistance test measures the risk of rollover in a single-vehicle, loss-of-control scenario.
0 Complaints
for 2002 TOYOTA SIENNA
1 Recalls
for 2002 TOYOTA SIENNA
20/04/2010
CAMPAIGN NUMBER: 10V160000
STRUCTURE
THE CABLE MAY BREAK DUE TO EXCESSIVE CORROSION AND THE SPARE TIRE MAY SEPARATE FROM THE VEHICLE, POSSIBLY RESULTING IN A VEHICLE CRASH.
Campaign Number:
10V160000
Manufacture:
TOYOTA MOTOR NORTH AMERICA, INC.
Summary
TOYOTA IS RECALLING CERTAIN MODEL YEAR 1998 THROUGH 2010 SIENNA PASSENGER VEHICLES MANUFACTURED BETWEEN AUGUST 7, 1997 AND JANUARY 4, 2010, CURRENTLY REGISTERED IN OR ORIGINALLY SOLD IN CONNECTICUT, DELAWARE, ILLINOIS, INDIANA, KENTUCKY, MAINE, MARYLAND, MASSACHUSETTS, MICHIGAN, MINNESOTA, NEW HAMPSHIRE, NEW JERSEY, NEW YORK, OHIO, PENNSYLVANIA, RHODE ISLAND, VERMONT, WASHINGTON DISTRICT OF COLUMBIA, VIRGINIA, WEST VIRGINIA, AND WISCONSIN. THE SUBJECT VEHICLES ARE EQUIPPED WITH THE SPARE TIRE STOWED UNDER THE VEHICLE. IF THE VEHICLE IS OPERATED IN THE COLD CLIMATE REGIONS OF THE UNITED STATES WHERE ROAD SALT IS FREQUENTLY USED, WATER SPLASHED BACKWARDS WITH HIGH CONCENTRATIONS OF ROAD SALT CAN REACH THE SPARE TIRE CARRIER AND CORRODE THE SPARE TIRE CARRIER ASSEMBLY CABLE.
Notes
TOYOTA RECALL NO. AOE. OWNERS MAY ALSO CONTACT THE NATIONAL HIGHWAY TRAFFIC SAFETY ADMINISTRATION'S VEHICLE SAFETY HOTLINE AT 1-888-327-4236 (TTY 1-800-424-9153), OR GO TO HTTP://WWW.SAFERCAR.GOV .
Get started for free
Get a free preview of the report