2014 Nissan NV2500 VAN RWD
Safety Ratings.
NHTSA's 5-Star Safety Ratings help consumers compare vehicle safety when searching for a car. More stars mean safer cars.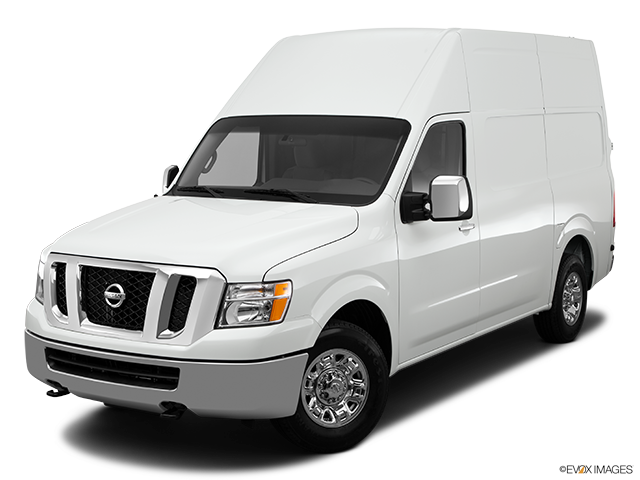 Frontal Crash
Side Crash
Rollover
Overall Front Star Rating
Combines Driver and Passenger star ratings into a single frontal rating. The frontal barrier test simulates a head-on collision between two similar vehicles, each moving at 35 mph.
Combines Side Barrier and Side Pole Star Ratings into a single side rating.
Overall Side Pole Star Rating
Combines Side Barrier and Side Pole Star Ratings into a single side rating.
The Rollover Resistance test measures the risk of rollover in a single-vehicle, loss-of-control scenario.
11 Complaints
for 2014 NISSAN NV2500
Components: UNKNOWN OR OTHER
Incident Date:
01/02/2018
Vehicle Identification Number:
5BZAF0AA1EN******
Summary
REAR AIR CONDITIONER WILL NOT COOL, EVEN WITH WARRANTY WORK, NISSAN NEVER FIXED IT. THIS IS A PERVASIVE PROBLEM WITH MOST VANS OF THIS MODEL.
Components: UNKNOWN OR OTHER
Incident Date:
06/02/2020
Vehicle Identification Number:
5BZAF0AA3EN******
Summary
THE REAR AC BLOWER MOTOR DIED FOR THE SECOND TIME IN LESS THAN A YEAR. THIS PASSENGER VEHICLE IS THE ONLY MODE OF TRANSPORTATION FOR MY FAMILY WITH 7 SMALL CHILDREN RANGING IN AGE FROM 10 MONTHS TO 11 YEARS OLD. YESTERDAY AND TODAY, THE TEMPERATURE IN THE REAR OF THE VEHICLE HAS REACHED 104 DEGREES INSIDE (86 DEGREES OUTSIDE) WHILE THE AC IS RUNNING ON ITS HIGHEST SETTING IN THE FRONT OF THE VEHICLE. THIS IS A KNOWN ISSUE WITH NISSAN. THEIR AUTO TECH SAID EVERYONE WHO PURCHASES THIS VEHICLE COMES BACK WITHIN A COUPLE OF YEARS TO HAVE THIS PART REPLACED. THEIR CUSTOMER SERVICE ASSOCIATE RECOMMENDED THAT I CONTACT YOU TO FILE A COMPLAINT BECAUSE THEY WILL NOT ISSUE A RECALL UNLESS THEY ARE DIRECTED TO DO SO BY YOU. PLEASE HELP FAMILIES LIKE MINE. HOT VEHICLES ARE EXTREMELY DANGEROUS FOR CHILDREN. PLEASE DO NOT LET SOMEONE LOSE A CHILD BECAUSE OF A FAULTY PART THAT NISSAN AND THE NHTSA KNOWS ABOUT BUT REFUSES TO RECALL. *TR
Components: UNKNOWN OR OTHER
Incident Date:
06/01/2018
Vehicle Identification Number:
5BZAF0AA2EN******
Summary
LITTLE TO NO AIR COMING OUT OF THE REAR AIR VENTS.
Components: AIR BAGS,STRUCTURE,SERVICE BRAKES
Incident Date:
01/13/2018
Vehicle Identification Number:
1N6BF0KX4EN******
Summary
TRAVELING AT HIGHWAY SPEED, TRAFFIC SLOWED. AS TRAFFIC WAS SLOWING AND I WAS BRAKING TRAFFIC CAME TO A SUDDEN STOP. I WAS MAINTAINING MY NORMAL FOLLOWING DISTANCE, YET THE VEHICLE SEEMED TO TAKE A LONGER DISTANCE THAN NORMAL TO STOP. I IMPACTED THE VEHICLE IN FRONT OF ME HARD ENOUGH TO BEND THE FRAME, YET THE AIR BAG DID NOT DEPLOY.
Incident Date:
09/16/2015
Vehicle Identification Number:
1N6BF0KX4EN******
Summary
VEHICLE PURCHASED 08/31/2015. WITHIN 1 MONTH OF PURCHASE, ON A BUSINESS TRIP, POWER STEERING STARTED TO MAKE NOISE DURING TURNS. I FOUND THE STEERING FLUID RESERVOIR LOW AND A LEAK UNDER THE VEHICLE. PURCHASED AND TOPPED OFF FLUID, NOTIFIED SERVICE DEPARTMENT AT NISSAN SAN LEANDRO. I WAS TOLD TO KEEP THE FLUID TOPPED OFF AND TO BRING THE VEHICLE IN AS SOON AS I RETURNED. THE PROBLEM WAS REPAIRED AND I WAS TOLD THAT IT WAS A BAD CONNECTION ON A POWER STEERING LINE DUE TO "A ROBOT NOT TIGHTENING THE FITTING ALL THE WAY".
Components: VISIBILITY/WIPER
Incident Date:
08/03/2016
Vehicle Identification Number:
3N6CM0KN1EK******
Summary
1) SIDE MIRRORS DO NOT PROVIDE ADEQUATE VIEW. AT NIGHT, MULTIPLE IMAGES OF HEADLIGHTS MAKE IT VIRTUALLY IMPOSSIBLE TO DETERMINE WHERE OTHER VEHICLES ARE LOCATED. 2) SUN VISOR IS TOO SHORT TO BLOCK SUN FROM DRIVER'S SIDE WINDOW EVEN WITH THE SEAT PULLED ALL THE WAY FORWARD. (I TRIED MAKING ADJUSTMENTS AND THEN THOUGHT I MIGHT GET USED TO IT BUT AFTER DRIVING FOR SIX MONTHS THESE DEFICIENCIES CONTINUE TO BE A HAZARD.)
Components: VEHICLE SPEED CONTROL
Incident Date:
06/18/2011
Vehicle Identification Number:
1N6BF0KY8EN******
Summary
I WAS DRIVING ALASKA HWY WITH TRAVEL TRAILER. TOTAL LOAD OF TRAVEL TRAILER 2,000#. AFTER 2-3 HOURS DRIVING ON CRUSE CONTROL UP THE HILL THE CRUSE CONTROL TURNING OF BY ITSELF. THE RPM IMMEDIATELY DROPS FROM 4500 TO 1800 RPM AND YOU NEED TO USE IMMEDIATELY MANUAL ACCELERATION.ALSO YOU CAN SMELL GASOLINE IN CABIN. SINCE THAT IT HAPPENS ABOUT 25-30 TIMES. THIS CARGO VAN I PURCHASED IN DECEMBER 2014. I DID GO TO AUTHORIZED SERVICE IN FAIRBANKS AK. THE SERVICE MAN DROVE THE VAN FOR ABOUT AN HOUR WITHOUT TRAILER AND TOLD ME HE COULD NOT FIND ANYTHING WRONG.THEY CHARGED ME DIAGNOSTIC FEE ON CAR WITH 5 YEARS OR 100K WARRANTY. WHEN WE COME BACK HOME FROM ALASKA I DID CALL DEALER IN VACAVILLE CALIFORNIA. I TOLD MY STORY. HE TOLD ME THE SERVICE ADVISER WILL CALL ME. THAT WAS 2 WEEKS AGO. STILL NO CALL. ALSO I HAVE CASE # WITH NISSAN 19322453. NO HELP FROM THEM EITHER. I THING IS SERIOUS SAFETY ISSUE DUE TO IMMEDIATE LOST OF ACCELERATION.
Incident Date:
11/18/2014
Vehicle Identification Number:
1N6AF0LX5EN******
Summary
THE DRIVERLESS VEHICLE ROLLED AWAY (DOWNHILL, GOING FORWARD) WHILE IN PARK, WITH IGNITION TURNED OFF, KEY REMOVED FROM IGNITION AND THE DOORS LOCKED. AFTER ROLLING 30 FEET DOWN HILL THE RUN AWAY VEHICLE STOPPED AFTER STRIKING AND PINNING A PEDESTRIAN BETWEEN THE FRONT BUMPER AND A PARKED CAR. AFTER THE COLLISION THE TRANSMISSION INDICATED TO BE IN PARK. THE ENGINE STARTED NORMALLY AND SHIFTED TO REVERSE IN ORDER TO EXTRICATE THE PEDESTRIAN. *TR
Incident Date:
02/02/2015
Vehicle Identification Number:
1N6BF0LX3EN******
Summary
TODAY IS 25 TO 30 DIGRESS OUTSIDE AND RAINING. THE DOOR HANDLES FROM INSIDE AND OUTSIDE ARE NON OPERABLE AND HAVE TO BANG DOOR HARD WHILE UNLOCKING INORDER TO ENTER/EXIT VEHICLE. ISSUE SEEMS TO BE WITH LINKAGE FREEZING UP, HOWEVER I'M NOT A MECHANIC AND CAN NOT CONFIRM THAT. *TR
Incident Date:
01/23/2013
Vehicle Identification Number:
1N6BFOLY6N1******
Summary
THE VEHICLE IS EQUIP WITH FACTORY GPS SYSTEM TECHNOLOGY SYSTEM ( NISSAN MOTORS INFORMED US THEY DON'T MAKE A TRUCK GPS SYSTEM ONLY THE STANDARD GPS) BRING THE VEHICLE ONTO PARKWAYS AND ROADS WITH LOW CLEARANCE. THE VEHICLE HEIGHT IS 105 INCHES WHICH IS 8 FT 9 INCHES. DRIVING THE VEHICLE HOME FROM THE DEALER, THE GPS TOOK US ON THE SOUTHERN PATE PARKWAY WITH THE OVERPASS HEIGHT OF 7 FT 6 INCHES. WE WERE ALMOST KILLED AND HAD TO BACK DOWN THE PARKWAY. NISSAN REFUSES TO TAKE BACK THE TWO VANS.
Components: UNKNOWN OR OTHER
Incident Date:
03/31/2014
Vehicle Identification Number:
58ZAFOAA5EN******
Summary
THERE IS A PROBLEM WITH DASH LIGHTS REFLECTING ON THE DRIVER LEFT SIDE WINDOW THAT INTERFERE WITH THE ABILITY TO SEE IMAGES IN THE LEFT DRIVER SIDE REAR VIEW MIRROR AT NIGHT. TURNING DOWN THE INTENSITY OF THE DASH LIGHTS DOES NOT REMOVE THE PROBLEM. ONLY TOTALLY DIMMING THE DASH LIGHTS REMOVE THE REFLECTION. THEN THE INSTRUMENT LIGHTS CANNOT BE SEEN. THIS PROBLEM DID NOT OCCUR WITH THE 2003 SPRINTER VAN THAT I PREVIOUSLY DROVE. I WOULD HOPE NISSAN CAN DEVELOP A CORRECTION. THIS CONDITION IS A MAJOR IRRITANT TO ME. I FIRST NOTICED THE PROBLEM WHEN I FIRST DROVE THE VEHICLE AT NIGHT.
0 Recalls
for 2014 NISSAN NV2500
Get started for free
Get a free preview of the report