2017 BMW 3 Series PHEV 4 DR RWD
Safety Ratings.
NHTSA's 5-Star Safety Ratings help consumers compare vehicle safety when searching for a car. More stars mean safer cars.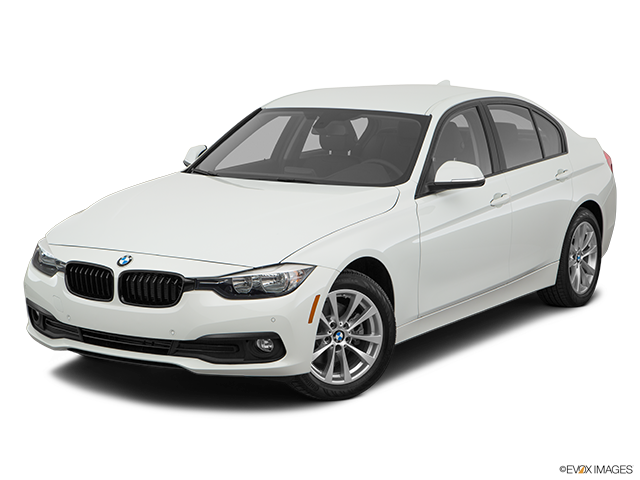 Frontal Crash
Side Crash
Rollover
Overall Front Star Rating
Combines Driver and Passenger star ratings into a single frontal rating. The frontal barrier test simulates a head-on collision between two similar vehicles, each moving at 35 mph.
Combines Side Barrier and Side Pole Star Ratings into a single side rating.
Overall Side Pole Star Rating
Combines Side Barrier and Side Pole Star Ratings into a single side rating.
The Rollover Resistance test measures the risk of rollover in a single-vehicle, loss-of-control scenario.
21 Complaints
for 2017 BMW 3 SERIES PHEV
Components: ELECTRICAL SYSTEM
Incident Date:
12/06/2021
Vehicle Identification Number:
99999999999******
Summary
2017 BMW 340I. CONSUMER WRITES IN REGARDS TO MILEAGE DISCREPANCY. THE CONSUMER STATED THE COMPANY OFFLEASEONLY WAS RUNNING A SCAM, WHERE THEY ADVERTISE LOW MILEAGE CARS WHEN IN ACTUALLY THE MILEAGE IS CONSIDERABLY HIGHER.
Components: POWER TRAIN,ELECTRICAL SYSTEM
Incident Date:
09/27/2021
Vehicle Identification Number:
WBA8E1C38HA******
Summary
Car won't start, I brought a new battery and still won't start. No electricity running through the car at all. I haven't even had it a year yet. 44,000 miles on it!
Components: FUEL/PROPULSION SYSTEM
Incident Date:
10/01/2021
Vehicle Identification Number:
WBA8E5C32HK******
Summary
High Pressure Fuel Pump started going out on 15 April 2021 while under manufacturer warranty. Took to Moss Motors BMW in Lafayette LA. BMW found High Pressure Fuel pump issue, replaced fuel rail and sensors. Check Engine Light came back on 21 May 2021. Took to BMW of Mobile for inspection. BMW could find no issues and returned car on 5 June 2021. Check Engine Light came back on 5 June 2021 and car stopped function. Had towed to BMW of Mobile. BMW of mobile found metal shavings in Fuel tank, indicative of High Pressure Fuel Pump failure. BMW of Mobile cleaned tank, replaced compensation flow valve, and returned car on 5 July 2021 (now out of manufacturer warranty period). Check Engine Light came back on 22 July 2021. Limped car to Moss Motors in Lafayette, LA. Informed that car has High Pressure fuel pump failure and researching issue. BMW researching issue and as of 1 Oct 2021 still has no resolution.
Components: UNKNOWN OR OTHER
Incident Date:
08/09/2021
Vehicle Identification Number:
WBA8D9G58HN******
Summary
Damaged heat exchanger from debris/rocks getting through grill of car. Now A/C SYSTEM IS BLOWING WARM AIR, IT WILL BLOW COOL FOR A VERY SHORT PERIOD AND THEN GET VERY HOT and car overheats. BMW dealer says the radiator needs replaced and will cost $1600. BMWs after 2017 are now manufactured with a mesh grill covering/rock guard to prevent these issues. This should be covered under my warranty and is not.
Components: STEERING,ELECTRICAL SYSTEM,FORWARD COLLISION AVOIDANCE
Incident Date:
05/07/2021
Vehicle Identification Number:
WBA8D9G55HN******
Summary
DRIVING AT 40MPH AN ALERT ERROR FOR STEERING AND BRAKING WARNING CAME UP AND STALLED THE CAR TO ZERO MPH. A REVIEW OF OTHER INTERNET COMPLAINTS ON BMW OWNERS WAS SIMILAR. WHY IS THIS NOT A RECALL?
Incident Date:
03/02/2021
Vehicle Identification Number:
WBA8B9C3XHK******
Summary
EVERYTIME I START UP THE ENGINE, THE IDLE IS IN HIGH RPM LIKE 1200-1300RPM EVEN IT IS WARMED AND THEN GRADUALLY GOES BACK TO NORMAL AFTER A MINUTE. AND IN COLD START THERE IS A LOUD THUD SOUND UNDER THE CAR AND SEEMS LIKE THE CAR ENGAGE AND THEN DISENGAGE, ONLY IN COLD START.
Incident Date:
04/04/2020
Vehicle Identification Number:
WBA8D9G57HN******
Summary
WATER PUMP HAD TO BE REPLACED. HOWEVER, LIQUID FROM THE WATER PUMP CAUSED THE FILER TO BE DAMAGED AND RESULTS IN A FIRE SMELL THROUGHOUT THE CARE. *TR
Components: ELECTRICAL SYSTEM
Incident Date:
02/05/2020
Vehicle Identification Number:
WBA8K3C30HA******
Summary
THE AUTOMATIC LIFTGATE WOULD CLOSE ALL OF A SUDDEN WHEN I'M REACHING FOR ITEM(S) DEEP IN THE CARGO AREA. I WAS TOLD BY THE DEALER THAT SINCE MY FEET ARE UNDER THE HANDS-FREE/ KICK SENSOR FOR THE AUTOMATIC LIFT GATE THAT THAT WOULD ACTIVATE IT. HOWEVER, THE LIFTGATE WOULD ALSO OPEN OR CLOSE WHEN I'M NOT UNDER THE SENSOR SUCH AS FILLING UP FOR GAS OR PUTTING THE CAR COVER ON. FORTUNATELY, THIS ONLY HAPPENS WHEN THE CAR IS STATIONARY. THIS PROBLEM HAS OCCURRED SINCE PURCHASE IN 2018, BUT DEALER SERVICE HAS NOT BEEN ABLE TO DUPLICATE THE SITUATION.
Components: ELECTRICAL SYSTEM,UNKNOWN OR OTHER,ENGINE
Incident Date:
10/07/2019
Vehicle Identification Number:
WBA8E1C54HK******
Summary
WHILE THE CAR WAS PLUGGED IN OVERNIGHT IN THE GARAGE, (IT IS A HYBRID), A TERRIBLE ODOR WAS RELEASED AND CARBON MONOXIDE WAS DETECTED. FIRE DEPARTMENT WAS CALLED TWICE (THIS OCCURRED TWO NIGHTS IN A ROW) AND DETECTED HIGH LEVELS OF CO FROM INSIDE THE CAR AND FROM THE HOOD. WE NEEDED TO EVACUATE THE HOUSE EACH TIME. GAS COMPANY AND PLUMBER CONFIRMED THERE WAS NO OTHER ISSUES IN GARAGE. UPON REMOVAL OF THE CAR, ISSUES NO LONGER PERSIST. BMW CANNOT FIND ANYTHING WRONG WITH THE CAR, BUT I REFUSE TO TAKE THE CAR BACK, GIVEN SAFETY FOR MY FAMILY. THE VEHICLE WAS PARKED, TURNED OFF, LOCKED, AND CHARGING OVERNIGHT.
Components: UNKNOWN OR OTHER
Incident Date:
10/14/2019
Vehicle Identification Number:
WBA8D9G50HN******
Summary
DRIVING ON THE HIGHWAY AT APPROXIMATELY 60 MPH. SUNROOF AND SHADE WERE BOTH CLOSED. I WAS ACCELERATING SLOWLY. HEARD A SUDDEN, VERY LOUD POP AND GLASS BEGAN TO ENTER THROUGH THE SHADE VENTING AREA. A LARGE PORTION OF GLASS (PROBABLY 1/3 - 1/2) DISLODGED FROM THE AREA, SCRAPED THE BACK OF THE CAR AND LAUNCHED ONTO THE HIGHWAY BEHIND ME. THIS COULD HAVE EASILY CAUSED A MAJOR ACCIDENT FOR MYSELF AND OTHERS BEHIND ME, MUCH LIKE ICE WOULD IF RELEASED FROM THE HOOD OF A MOVING CA.. I WAS ABLE TO PULL OVER AND EVALUATE THE DAMAGE. THE SUNROOF APPEARED TO HAVE BUCKLED AND BLOWN OUT, AS THE SHARDS OF GLASS WERE POINTED OUTWARD FROM THE CAR. DEALERSHIP CLAIMS IT IS AN INSURANCE CLAIM AND NOT UNDER WARRANTY, DESPITE HAVING PURCHASED THE CAR CPO JUST OVER ONE MONTH AGO.
Incident Date:
06/15/2019
Vehicle Identification Number:
WBA8E5C39HK******
Summary
RECALL CAMPAIGN # 18V-755 EXHAUST GAS RECIRCULATION (EGR). I HAD WAITED 7 MONTHS TO GET THE FIX COMPLETED. I WROTE A LETTER TO THE CEO OF BMW USA. THEY HAD A REPRESENTATIVE ASSIGNED TO MY CASE. I TOLD THEM THAT THIS DEFECT IS A SAFETY ISSUE FOR MY FAMILY AND GAVE THEN 30 DAYS TO FIX IT WHICH EXPIRED ON JULY 15TH. THEY INSPECTED IT WHICH DOESN'T SHOW FAILURE BUT IT IS STILL A CONCERN AS IT SAYS - "IT WOULD INCREASE THE RISK OF A FIRE". THEY STILL DON'T HAVE A FIX THAT HAS BEEN BROADLY ROLLED OUT. I AM IN FEAR OF DRIVING THIS VEHICLE. I HAVE ASKED THEM TO BUY BACK MY VEHICLE AS I AM THE ORIGINAL LESSEE. THEY HAVE REFUSED TO CORRECT THE PROBLEM AS THEY ARE PRIORITIZING THE FIXES TO THEIR RESALE VEHICLES AND NOT VEHICLES ALREADY ON THE ROAD. IF YOU NEED COPIES OF MY CORRESPONDENCES WITH BMW I WILL BE HAPPY TO PROVIDE IT. *JS
Components: UNKNOWN OR OTHER
Incident Date:
07/09/2019
Vehicle Identification Number:
WBXHU7C33H5******
Summary
THIS RECALL NHTSA RECALL NUMBER 19V349 HAS BEEN OPEN ON MY VEHICLE SINCE APRIL AND BMW HAS NOT REPAIRED MY VEHICLE YET. I WENT INTO THE SERVICE DEPARTMENT YESTERDAY AND ASKED THEM TO COMPLETE THE REPAIRS AND THEY SAID THEY DO NOT HAVE THE PARTS TO COMPLETE THE REPAIRS. I HAVE A 10 MONTH OLD BABY THAT SITS IN THE BACK SEAT AND DO NOT FEEL SAFE IN THE CAR DUE TO THE RECALL. I AM IN A LEASE, HOW DO I GET OUT OF THIS CAR? I FEEL LIKE BMW IS NOT TAKING THIS RECALL SERIOUSLY. THANK YOU. [XXX] INFORMATION REDACTED PURSUANT TO THE FREEDOM OF INFORMATION ACT (FOIA), 5 U.S.C. 552(B)(6).' *PM
Components: UNKNOWN OR OTHER
Incident Date:
06/17/2019
Vehicle Identification Number:
WBA8B3C31HK******
Summary
I WAS DRIVING WHEN I HEARD A LOUD EXPLOSION SOUND. I THOUGHT SOMETHING HAD HIT THE CAR. UPON INSPECTION, I NOTICED THE SUNROOF HAD EXPLODED INTO THOUSANDS OF PIECES. THIS OCCURRED ON JUNE 17, 2019.
Incident Date:
03/16/2019
Vehicle Identification Number:
WBA8K3C39HA******
Summary
THE 2 REAR SEAT BELTS (NOT THE MIDDLE ONE) BECAME DETACHED AT THE CONNECTION POINT AT THE TOP OF THE SEAT. THE BELTS APPEAR TO HAVE BEEN TORN OR SEVERED AS IF THEY WERE CUT AT THE POINT WHERE THEY ARE ATTACHED.
Components: ENGINE,FUEL/PROPULSION SYSTEM
Incident Date:
03/25/2019
Vehicle Identification Number:
WBA8J1C39HA******
Summary
RECEIVED LETTER FROM BMW IN THE FALL OF 2018 STATING THE NATURE OF THE RECALL AND THAT PARTS WOULD BE AVAILABLE IN DECEMBER 2018. AS OF THIS MORNING, PARTS ARE STILL NOT AVAILABLE AND WAS TOLD IT'S AT LEAST 3-4 WEEKS AWAY. IS THIS TYPICAL WAIT TIME TO ADDRESS RECALL ISSUES?
Incident Date:
10/11/2018
Vehicle Identification Number:
WBA8E1C55HK******
Summary
I'M LEASING BMW 330E. IN NOVEMBER 2017 I BROUGHT IT WITH 5,800 MILES FOR MAINTENANCE TO THE WEATHERFORD BMW; WAS ADVISED TREAD OF REAR SET OF TIRES IS DANGEROUSLY SHALLOW, UNDER 5 MM. THEY ALSO TOLD ME THAT FRONT SET IS STILL OK WITH 6 MM, BUT SOON NEEND TO BE ALSO REPLACED. I CONTACTED THE BMW NA, OFFERED A 50% DISCOUNT ON A SET OF NEW TIRES. THIS OCTOBER 2018 AT 2ND SERVICE SERVICE I WAS ADVISED THAT THE THREAD NOW ON THE REAR SET IS UNDER 3 MM AND PRESENTS A SAFETY HAZARD TO CONTINUE TO OPERATE. THE FRONT SET OF TIRES HAS ONLY 4 MM REMAINING THREAD. THE VEHICLE HAS ONLY 11,250 MILES ON THE ODOMETER. WHEN I CALLED THE BMA NA ABOUT THEIR LAST YEAR OFFER, I WAS TOLD THAT THEY HAVE "TAKEN THE OFFER OFF THE TABLE". BMW BILL FOR THE NEW 2 TIRE SET WITH BALANCING AND ALLIGNMENT AT $1,006.60 IS ATTACHED TO THIS EMAIL. THESE ARE RUN-FLAT CONTINENTAL CONTIPROCONTACT TIRES. THE CONTINENTAL TIRES COMPANY HAS RESPONDED TO MY ONLINE INQUIRY WITH THE ANSWER THAT THE ORIGINAL TIRES ON THE NEW CARS HAVE NO TREADWEAR WARRANTY, BUT THE REPLACEMENT OF THE SAME NEW TIRES DOES COME WITH A 40,000 MILES TREADWEAR WARRANTY. BMW SERVICE CHARGES $500- PLUS PER TIRE FOR REPLACENT, INCLUDING THE BALANCING, ALLIGNMENT AND TAX. SINCE THE AVERAGE MILEAGE IN THE USA PER CAR DRIVEN IS ABOUNT 12,000 MILES ANNUALLY AND THE BMW VEHICLES OWNERS, OR A LESSEES ARE SUPPOSED TO CHANGE IT AFTER JUST 12,000 BECAUSE THE NEW TIRES ARE WORN AND HAVE NO FACTORY, OR TIRE MANUFACTURER'S WARRANTY, THAT MEANS THAT THE ANNUAL COST FOR TIRES OF ONE BMW VEHICLE IS $2,000-. THAT IS UNACCEPTIBLE AND IS A DECEIVING PRACTICE. I SUSPECT THAT BMW FACTORY IN GERMANY PURPOSELY EQUIPPING THEIR NEW VEHCILES WITH SUBSTANDARD QUALITY UNWARRANTED CONTINENTAL RUN-FLAT TIRES TO WRECK ON UNSUSPECTING USA CONSUMERS THE COST OF ANNUAL REPLACEMENT WORTH OF $2,0000- PLUS ANNUALLY, OR $500- PLUS PER TIRE. PLEASE INVESTIGATE.
Components: VISIBILITY/WIPER
Incident Date:
09/30/2018
Vehicle Identification Number:
WBA8K3C34HA******
Summary
I WAS DRIVING BETWEEN 55-65 MPH ON A TWO LANE HIGHWAY WHEN THE PANORAMIC SUNROOF SPONTANEOUSLY EXPLODED. THE MAJORITY OF GLASS BLEW UP AND OUT OF THE CAR, BUT SMALL PIECES WERE FALLING BACK INTO THE CAR. THE TEMPERATURE OUTSIDE WAS APPROXIMATELY 66 DEGREES. TRAFFIC WAS MOVING WELL, BUT HEAVY.
Components: UNKNOWN OR OTHER
Incident Date:
06/28/2018
Vehicle Identification Number:
WBA8B9G5XHN******
Summary
I WAS DRIVING ON A FREE WAY DURING RUSH HOUR WHEN I HEARD AN EXPLOSION. I PULLED OVER AND DISCOVERED THE MOON ROOF TO THE CAR HAD SHATTERED AND CREATED A VERTICAL PROTRUSION FROM THE WINDOW. THE TEMPERATURE THAT AFTERNOON WAS 109 AND I HAD DRIVEN FROM AN ALTITUDE OF 7,000 FEET TO 1,200 FEET. THERE WAS ALSO A SIGNIFICANT DROP IN TEMPERATURE FROM THE HIGHER ELEVATION. A HIGHWAY PATROL OFFICER STOPPED TO OFFER ASSISTANCE AND NOTED HE HAD WORKED IN DEALERSHIP AND THE PROBLEM WAS COMMON. AFTER HAVING THE CAR TOWED TO THE DEALERSHIP WHERE I HAD PURCHASED IT LESS THAN A WEEK EARLIER, THE SERVICE REPRESENTATIVE SAID A ROCK HAD HIT THE CAR AND I SHOULD CONTACT MY INSURANCE COMPANY. THE SERVICE REP INFORMED ME IT WAS IT WAS NOT A WARRANTY ISSUE WITHOUT EXAMINING THE CAR. I SHARED WHAT THE DPS OFFICER SAID AND THE SERVICE REP JUST SHOOK HIS HEAD. THE CAR IS A PREOWNED CERTIFIED VEHICLE.
Components: VISIBILITY,UNKNOWN OR OTHER
Incident Date:
04/13/2018
Vehicle Identification Number:
WBA8B7C55HK******
Summary
DRIVING ABOUT 40MPH ON A STRAIGHT ROAD, NO POTHOLES,ON SUNNY DAY, TEMP ABOUT 50. SUDDEN EXPLOSION AND SUNROOF EXPLODED OUTWARD. PULLED OFF ROAD, NOTHING HAD STRUCK THE CAR. THE SUNROOF GLASS WAS COMPLETELY SHATTERED. THERE WERE NO INJURIES
Incident Date:
07/18/2017
Vehicle Identification Number:
VINWBA8E1C3******
Summary
THE VEHICLE WAS IN MOTION ON THE HIGHWAY ON THE LEFT LANE OF TRAFFIC AT A SPEED OF 65MPH IN "EDRIVE" MODE. AS EXPECTED, IT SHIFTED FROM ELECTRIC TO COMBUSTION ENGINE AT 65MPH THOUGH THE AT THIS POINT THE CAR STARTED COASTING, AS IF IT WAS IN NEUTRAL, EVEN THOUGH THE INDICATOR ON THE GEAR SHIFT SHOWED "D". THE "CHECK ENGINE" LIGHT ALSO WENT ON. I FIRST ATTEMPTED TO SWITCH BACK TO ELECTRIC DRIVE ONLY ("MAX EDRIVE MODE") BUT TO NO AVAIL. I THEN DECIDED TO COAST TO THE EMERGENCY LANE TO THE RIGHT OF THE HIGHWAY BUT AFTER I MADE MY WAY TO THE MIDDLE LANE, THE TRAFFIC SLOWED DOWN AND I HAD TO USE THE BRAKE AND NO LONGER HAD ENOUGH MOMENTUM TO MAKE IT SAFELY TO THE EMERGENCY LANE. I FRANTICALLY TRIED SEVERAL TIME TO SHIFT THE "D" MODE SEVERAL TIME BUT ONLY MANAGED TO PUT THE GEAR SHIFT IN "N" (WITH NO WAY OF PUTTING IT BACK IN "D" MODE). AS OF LAST RESORT (I WAS NOW COASTING AT 10~5 MPH IN THE MIDDLE LANE OF THE HIGHWAY), I PRESSED THE START/STOP BUTTON AND THAT SOMEHOW RESET THE SYSTEM AND I WAS ABLE TO ACCELERATE ONCE AGAIN AND THE CHECK ENGINE LIGHT WENT OFF. I HAVE NOT HAD ANY ISSUE SINCE THIS INCIDENT (7/18 7PM PST) AND HAD IT CHECKED THE NEXT DAY BY THE DEALERSHIP WHO GAVE ME THE FOLLOWING EXPLANATION: CONNECTED CHARGER AND RAN SHORT TEST. FOUND FAULT FOR HIGH VOLTAGE BATTERY SHUT OFF DUE TO LOW CHARGE LEVEL. VEHICLE WAS NOT CHARGED CAUSING THE CUSTOMER COMPLAINT. CLEARED FAULTS CHARGED VEHICLE AND TEST DROVE. NO ISSUES AT THIS TIME I AM NOT SATISFIED BY THE EXPLANATION: MY BATTERY WAS NOT FULLY DEPLETED (THE CAR DROVE ON ELECTRIC SHORTLY AFTER THE INCIDENT WHEN I EXITED THE HIGHWAY).
Components: UNKNOWN OR OTHER,ENGINE
Incident Date:
12/30/2016
Vehicle Identification Number:
WBA8E1C5XHK******
Summary
I WAS DRIVING THE CAR WITH TWO PASSENGERS AND THE CAR SUDDENLY BECAME TOTALLY UNRESPONSIVE. I MANAGED TO COAST TO THE SHOULDER OF THE ROAD ON A VERY BUSY STREET. I CONTACTED BMW AND REPORTED THE PROBLEM. THE YELLOW ENGINE LIGHT WAS ON AND IT WAS STUCK IN PARK. I COULD NOT GET IT TO GO INTO REVERSE OR DRIVE. I TURNED THE CAR OFF AND ON TO NO AVAIL. THIS IS THE SECOND TIME THIS HAS HAPPENED. AFTER ABOUT 15 MIN THE CAR STARTED AND I MANAGED TO DRIVE TO MY HOUSE WHICH WAS CLOSE TO WHERE IT DIED ON THE ROAD. A TOW TRUCK IS ON ITS WAY TO BRING IT TO FLEMINGTON BMW. I REPORTED THE INCIDENT AT APPROXIMATELY 5:05 PM TO BMW CUSTOMER RELATIONS (TAWNY) WHO PROVIDED ME WITH YOUR WEBSITE. THE FIRST TIME THE CAR WAS BROUGHT INTO SERVICE THEY COULD NOT FIND ANY FAULT CODES WITH THE CAR AND THEY TOLD ME THAT IT WAS FUNCTIONALLY FINE. THEY ASKED IF I MIGHT HAVE ACCIDENTALLY TURNED THE CAR OFF WHILE DRIVING. BMW TOWED THE CAR TO THE DEALER AFTER THE FIRST INCIDENT. I DO NOT REMEMBER THE EXACT DATE BUT THIS COULD BE DETERMINED THROUGH ROAD SIDE ASSISTANCE. I TOLD BMW THAT THE CAR IS DANGEROUS AND I WOULD NOT DRIVE IT UNLESS THEY CAN DETERMINE WITH CERTAINTY WHAT IS WRONG. HAD I BEEN UNABLE TO COAST TO THE SIDE OF THE ROAD, THIS COULD HAVE RESULTED IN A LIFE THREATENING SITUATION. THE CAR WAS IN MOTION ON BOTH INSTANCES WHEN IT BECAME TOTALLY UNRESPONSIVE. ONCE AGAIN, THE CAR WAS IN PARK AND COULD NOT BE MOVED INTO REVERSE OR DRIVE FOR APPROXIMATELY 15 MIN BEFORE IT STARTED UP AGAIN.
0 Recalls
for 2017 BMW 3 SERIES PHEV
Get started for free
Get a free preview of the report