Safety Ratings.
NHTSA's 5-Star Safety Ratings help consumers compare vehicle safety when searching for a car. More stars mean safer cars.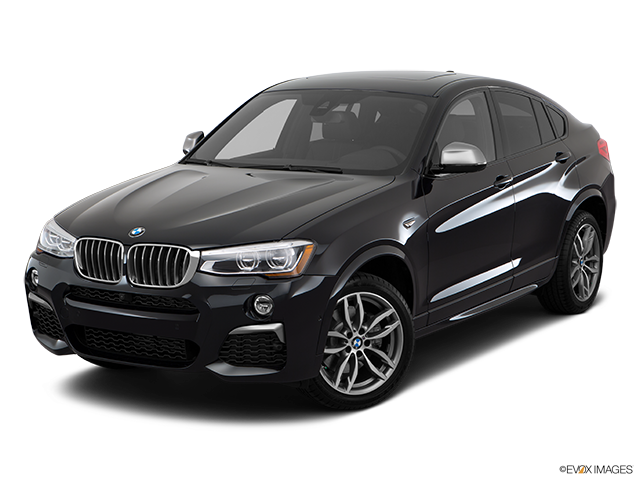 Frontal Crash
Side Crash
Rollover
Overall Front Star Rating
Combines Driver and Passenger star ratings into a single frontal rating. The frontal barrier test simulates a head-on collision between two similar vehicles, each moving at 35 mph.
Combines Side Barrier and Side Pole Star Ratings into a single side rating.
Overall Side Pole Star Rating
Combines Side Barrier and Side Pole Star Ratings into a single side rating.
The Rollover Resistance test measures the risk of rollover in a single-vehicle, loss-of-control scenario.
2 Complaints
for 2017 BMW X4
Components: ELECTRICAL SYSTEM,SERVICE BRAKES
Incident Date:
12/25/2020
Vehicle Identification Number:
5UXXW3C59H0******
Summary
WHILE DRIVING OUT OF A PKG LOT AT LOW SPEED AND SNOW CONDITIONS, MULTIPLE WARNING LIGHTS TURNED ON, WHILE VEHICLE SLIDED TOWARD COLISION. THE CAR WENT TO PARK (BY ITSELF) WHILE MOVING FWD DIRECTION, THE REAR TIRES WERE SPINNING AND THE FRONT WERE LOCKED INTO PARK WITHOUT ANY TRACTION. WHILE THE CAR MOVED TOWARD COLLISION, PEOPLE HELPED TO PUSHED THE CAR AWAY FROM OTHER CARS, AS THE CAR MOVED TO "PARK". AFTER FEW SECONDS OF TRYING TO CONTROL THE CAR WITHOUT SUCESS, (THE CAR) IT WAS TURNED OFF AND RESTARTED TO TRY TO RESET THE WARNINGS AND GET IT MOVING. CAR STILL WAS NOT RESPONDING 100% PROPERLY; GOT CAR TO REVERSE TO GET SOME STEERING AWAY FROM OTHER CARS AND PUT "AUTOSOCKS" ON FRONT WHEELS (NOT PER MFG'S MANUAL) TO GET TRACTION ON FRONT AXEL AND TRY TO GET THE FRONT WHEELS TO MOVE. ONCE THE FRONT AXEL GOT TRACTION, AND THE PANEL WAS RESET, THE SITUATION WAS UNDER CONTROL AND AVOIDED COLLISION. AFTER THIS, TOOK THE CAR TO THE DEALERSHIP AND THEY SAID THAT THE BATTERY HAD AGED AND THAT THIS RESULTED IN A FAULT DYNAMIC SYSTEM CONTROL. THERE WAS NO BATTERY HEALTH WARNING THAT ADVISE TO LOOK AT THIS PRIOR ENGAGE ON TRAVELS, OR ANYTHING THAT MENTIONED THAT LOW BATTERY COULD AFFECT BRAKE SYSTEM. I CHANGED THE BATTERY AND I ASKED HOW TO PREVENT THIS FROM HAPPENINING AGAIN, THERE WAS NO GOOD ANSWERS. BMW ONLY ADVICED TO REPLACED THE BATTERY AND TOLD ME THAT IT SHOULD BE FINE FOR FEW YEARS NOW, BUT THERE IS NO WAY TO KNOW THE LIFE OF A BATTERY AND THIS PARTICULAR CASE DID NOT PROVIDED ME ANY BATTERY INDICATOR AS THE BATTERY WAS NOT FULLY DEAD. ACCORDING TO BMW, "IT PROVIDED ENOUGH CHARGE FOR THE BASIC FUNCTIONS BUT NOT FOR THE SAFETY FEATURES SUCH AS DSC". I WAS LUCKY BUT THIS IS NOT SAFE, I AM NOT THE FIRST ONE WITH THIS ISSUE, AND THIS DOES NOT HAVE A WAY TO MAINTAIN OR PREVENT SAFELY.
Components: STEERING,ELECTRICAL SYSTEM,SERVICE BRAKES
Incident Date:
12/20/2019
Vehicle Identification Number:
5UXXW7C53H0******
Summary
THE VEHICLE'S DASH AND INFOTAINMENT SCREENS WILL FLICKER OR STAY OFF FOR A PERIOD OF A FEW SECONDS, IMMEDIATELY AFTER THE VEHICLE WILL DISPLAY VARIOUS ERRORS INCLUDING BUT NOT LIMITED TO LOSS OF POWER STEERING, LOSS OF BRAKING POWER, THE TRANSMISSION WILL GET THROWN INTO NEUTRAL, ON SOME OCCASIONS THE CAR WILL TURN OFF. AFTER A FEW SECONDS, YOU WILL REGAIN CONTROL OF THE VEHICLE. THIS WILL HAPPEN RANDOMLY FROM PULLING INTO A DRIVEWAY OR WHILE IN THE TURNPIKE, EXTREMELY DANGEROUS. THE VEHICLE HAS BEEN IN THE SERVICE DEPT FOR OVER 50 DAYS OVER THE COURSE OF 3 MONTHS. BMW HAS BEEN UNABLE TO DIAGNOSIS THE CAR. THE ATTACHED DOCUMENT CONTAINS TWO YOUTUBE LINKS WHERE YOU CAN SEE SOME OF THE ISSUES.
1 Recalls
for 2017 BMW X4
23/05/2016
CAMPAIGN NUMBER: 16V333000
CHILD SEAT:LATCH STRAP
Damaged lower anchor bars may increase the child's risk of injury in the event of a crash.
Campaign Number:
16V333000
Manufacture:
BMW of North America, LLC
Components:
CHILD SEAT:LATCH STRAP
Summary
BMW of North America, LLC (BMW) is recalling certain model year 2011-2017, X3 sDrive28i, X3 xDrive28i and X3 xDrive35i, vehicles manufactured July 2, 2010 to April 14, 2016, 2015-2017 X3 xDrive28d vehicles manufactured March 10, 2014 to March 31, 2016, and 2015-2017 x4 xDrive28i, X4 xDrive35i and X4 xDriveM40i vehicles manufactured March3, 2014 to April 15, 2016. The affected vehicles have lower anchor bars for securing child restraint seats that may become damaged when using the European-ISOFIX-type, rigid-style connector, child restraint system.
Notes
Owners may also contact the National Highway Traffic Safety Administration Vehicle Safety Hotline at 1-888-327-4236 (TTY 1-800-424-9153), or go to www.safercar.gov.
Get started for free
Get a free preview of the report