Safety Ratings.
NHTSA's 5-Star Safety Ratings help consumers compare vehicle safety when searching for a car. More stars mean safer cars.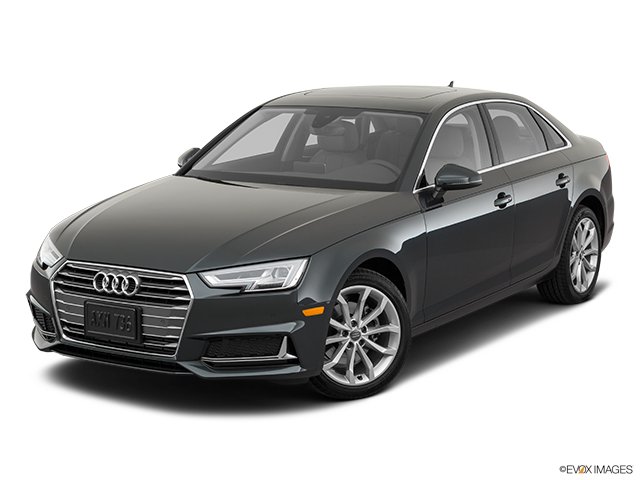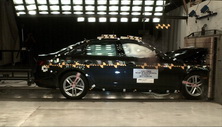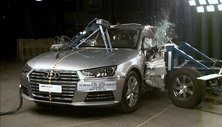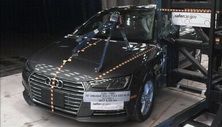 Frontal Crash
Side Crash
Rollover
Overall Front Star Rating
Combines Driver and Passenger star ratings into a single frontal rating. The frontal barrier test simulates a head-on collision between two similar vehicles, each moving at 35 mph.
Combines Side Barrier and Side Pole Star Ratings into a single side rating.
Overall Side Pole Star Rating
Combines Side Barrier and Side Pole Star Ratings into a single side rating.
The Rollover Resistance test measures the risk of rollover in a single-vehicle, loss-of-control scenario.
2 Complaints
for 2019 AUDI A4
Components: ELECTRICAL SYSTEM,BACK OVER PREVENTION,FORWARD COLLISION AVOIDANCE
Incident Date:
05/25/2021
Vehicle Identification Number:
WAUENAF43KN******
Summary
I am filing a complaint concerning my recent experience with the Audi service department located in San Rafael, California. On May 24, 2021 I brought my 2019 Audi A4 in for service due to an error message stating, "Front parking aid: malfunction! Obstacles cannot be detected". I purchased the car in December 2019 from the dealership in Burlingame, California. It was previously used as a loaner car, and to my knowledge the car was in original condition with no prior bodywork done on the vehicle. When my car was inspected by the dealership in San Rafael, they discovered the error message was the result of a faulty left center front parking aid where pinched wires were found from a previous bumper repair/ removal. I was told that this work required immediate attention, wasn't covered under warranty, and the total cost of repair was $784.29. I explained to the service advisor, Gene Frank, that the car had never been in a collision since I owned it, and Gene stated that this is a common problem with Audi cars and if he filed a claim with the company, it would be rejected. Gene argued that my car may have been hit in the front by another car on the street, and when I asked why the front of the car doesn't show damage, he explained it was due to the plastic coating on the outside of the surface. Based on the pictures taken by the service inspector and the reasoning for this damage, I argue that this damage was due to a faulty wire. The car is garage kept, has low mileage, has never been in a collision, and has never had body work performed on it. For all these reasons, I dispute the cause of this wire damage. I want Audi to take responsibility for this repair, recall this type of wiring, and refund me the total amount paid for repair.
Components: SERVICE BRAKES
Incident Date:
04/25/2019
Vehicle Identification Number:
WAUENAF44KA******
Summary
ON APRIL 25, 2019 I WAS DRIVING ON A CITY STREET AND THE AUDI PRE SENSE UNEXPECTEDLY ACTIVATED QUITE VIOLENTLY FOR ABOUT 2 SECONDS AND THEN TURNED OFF. WHILE IT DID NOT STOP THE CAR COMPLETELY IT DID REDUCE MY SPEED SIGNIFICANTLY. AT THE TIME I WAS THE ONLY CAR ON THE ROAD; THAT IS, THERE WERE NO OTHER CARS WITHIN SIGHT OF MINE. THERE WAS NO DAMAGE THAT I CAN SEE TO THE CAR BUT I TRUST YOU CAN UNDERSTAND THAT THIS COULD HAVE BEEN A MUCH WORSE SITUATION IF SOMEONE HAD BEEN FOLLOWING CLOSELY BEHIND ME. I ALSO TRUST YOU UNDERSTAND THAT THIS UNEXPECTED BRAKING IS UNACCEPTABLE. THE AUDI SERVICE ADVISOR TOLD ME HE HAS SEEN THIS PHENOMENON BEFORE BUT AUDI HAS NO EXPLANATION OR SOLUTION TO THE PROBLEM.
1 Recalls
for 2019 AUDI A4
10/11/2021
CAMPAIGN NUMBER: 21V874000
SEATS
A disabled passenger air bag increases the risk of injury in the event of a crash.
Campaign Number:
21V874000
Manufacture:
Volkswagen Group of America, Inc.
Summary
Volkswagen Group of America, Inc. (Audi) is recalling certain 2017-2020 A4 Allroad, A4 Sedan, 2018-2019 RS5 Coupe, 2019 RS5 Sportback, 2018-2020 A5 Cabriolet, A5 Coupe, A5 Sportback, S4 Sedan, S5 Cabriolet, S5 Coupe, and Audi S5 Sportback vehicles. The cable connecting the seat heater to the Passenger Occupant Detection System (PODS) may have a contact fault, causing the software to misdiagnose a malfunction and disable the passenger air bag.
Notes
Owners may also contact the National Highway Traffic Safety Administration Vehicle Safety Hotline at 1-888-327-4236 (TTY 1-800-424-9153), or go to www.nhtsa.gov.
Get started for free
Get a free preview of the report