2019 Audi A5 Sportback 4 DR AWD
Safety Ratings.
NHTSA's 5-Star Safety Ratings help consumers compare vehicle safety when searching for a car. More stars mean safer cars.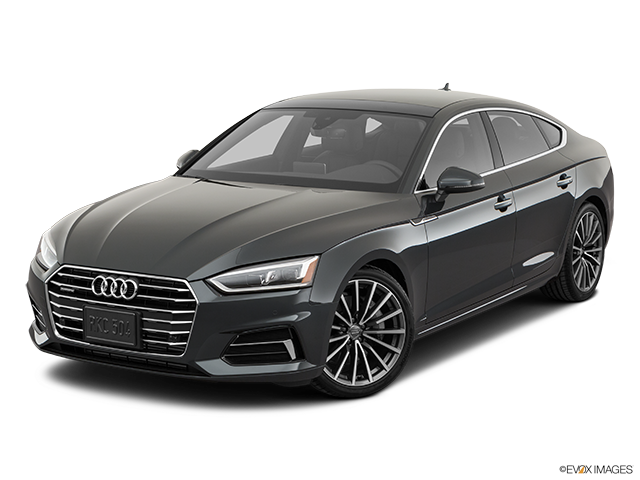 Frontal Crash
Side Crash
Rollover
Overall Front Star Rating
Combines Driver and Passenger star ratings into a single frontal rating. The frontal barrier test simulates a head-on collision between two similar vehicles, each moving at 35 mph.
Combines Side Barrier and Side Pole Star Ratings into a single side rating.
Overall Side Pole Star Rating
Combines Side Barrier and Side Pole Star Ratings into a single side rating.
The Rollover Resistance test measures the risk of rollover in a single-vehicle, loss-of-control scenario.
7 Complaints
for 2019 AUDI A5 SPORTBACK
Incident Date:
12/09/2021
Vehicle Identification Number:
WAUWNGF57KN******
Summary
The contact owns a 2019 Audi A5. The contact stated that while driving approximately 50 MPH, the "Steering Malfunction" message displayed on the instrument panel and continued flashing. Moments later the steering wheel was extremely difficult to turn in either direction. The vehicle was later towed to the local dealer who discovered that the power steering module was faulty and needed to be replaced. The vehicle was repaired. The manufacturer was notified of the failure however, no assistance was offered. The failure mileage was 17,000.
Components: STEERING,SUSPENSION,WHEELS
Incident Date:
09/21/2021
Vehicle Identification Number:
WAUTNAF58KA******
Summary
I was driving when the rear of my car began vibrating, then fishtailing and I lost control and hit a curb resulting in mostly forward damage. In reviewing the Preliminary Estimate from the auto-shop and insurance adjuster, there was quite a bit of damage to the Rear Suspension including a broken Trailing arm lock nut, washer, and bolt, as well as the Protector lining, lower control arm, its lock nut and the control arm mount bolt. The broken rear axle components caused me to lose control of my vehicle resulting in forward impact with a curb. My car was deemed a total loss with $28K in estimated repairs.
Components: FORWARD COLLISION AVOIDANCE
Incident Date:
08/03/2021
Vehicle Identification Number:
WAUFNCF55KA******
Summary
On three different occasions, I have experienced automatic emergency braking of the car which, rather than keeping me safe, placed me in a very dangerous situation. Each time, I was in a controlled intersection on a green light and in the left turn lane, with oncoming traffic also having a green light. When it was amply safe to make the left turn, with oncoming traffic at a safe distance from the intersection, I began my left turn. Just as my car was turning in front of that oncoming traffic, and just as I needed to proceed safely and promptly through the intersection, the Pre-Sense system jammed on the brakes, stopping my car in the path of oncoming traffic. In the time it took to get over the shock of that happening and finish the turn, and if the oncoming traffic had not been paying attention, serious accidents could have resulted. Please note that all three of these incidents occurred with the Pre-Sense system set at its least sensitive position. I have since turned the system off completely. I have not contacted the dealer or the manufacturer.
Incident Date:
04/24/2021
Vehicle Identification Number:
WAUFNCF5XKA******
Summary
WATER IS COLLECTING IN THE REAR PASSENGER DOOR WELL OR THE DOOR SILL. WATER SLOSHING IS HEARD WHEN BRAKING OR ACCELERATING FROM STOP. PROBLEM IS MORE SEVERE AFTER RAINS OR CAR WASHES.
Components: VEHICLE SPEED CONTROL
Incident Date:
10/02/2019
Vehicle Identification Number:
WAUFNCF55KA******
Summary
ON TWO OCCASIONS SO FAR, WHEN MAKING A LEFT TURN IN A FOUR WAY INTERSECTION, THE PRE-SENSE SYSTEM DETECTED AN ONCOMING CAR WAY TOO EARLY AND APPLIED THE BRAKES HARD JUST AS I WAS WELL INTO THE TURN AND NEEDED TO GET OUT OF THE INTERSECTION BEFORE I BECAME A DANGER TO THE ONCOMING CAR. THIS PUT ME INTO A POTENTIALLY VERY DANGEROUS SITUATION. I AM AWARE THAT THE SENSITIVITY CAN BE ADJUSTED BUT, IN THIS CASE, THERE WAS NO DANGER AT ALL UNTIL MY CAR BRAKED SUDDENLY AS I WAS TRYING TO COMPLETE MY TURN SAFELY. THAT ACTUALLY CREATED A HAZARD. AS WITH OTHER SIMILAR COMPLAINTS THAT I HAVE READ ABOUT, I BELIEVE THAT THE SOFTWARE IS STILL SOMEWHAT IMPERFECT. I HAVE SINCE SELECTED THE LEAST SENSITIVE SETTING AND HAVE HAD NO FURTHER PROBLEMS. THE PRE-SENSE SYSTEM HAS ALSO BRAKED HARD SEVERAL TIMES WHEN BACKING UP EVEN THOUGH ANY POTENTIAL DANGER WAS STILL WELL AWAY FROM MY CAR. THE BRAKING IS SO HARSH AND STARTLING, THAT ALONE COULD CAUSE UNINTENDED CONSEQUENCES.
Components: VEHICLE SPEED CONTROL
Incident Date:
10/03/2019
Vehicle Identification Number:
WAUFNCF59KA******
Summary
THIS IS ANOTHER OCCURRENCE THEREFORE A CONTINUATION OF COMPLAINT NUMBER 11258717. ON A SECOND OCCASION WHILE DRIVING IN THE EXPRESS LANES OF AN EXPRESSWAY, THE PRE-SENSE DISPLAYED A CROSSROAD INDICATION ON THE INSTRUMENT DISPLAY AND APPLIED THE BRAKES WHILE I WAS GOING APPROXIMATELY 75 MPH ON A LIMITED ACCESS EXPRESSWAY IN THE EXPRESS LANES. CAN YOU IMAGINE WHAT WOULD HAVE HAPPENED IF I HAD A CAR TAILGATING ME AT THAT TIME? THERE IS SOME SERIOUS SOFTWARE DEFECTS WITH THIS SYSTEM. IS ANYONE GOING TO RESPOND TO THIS?
Components: VEHICLE SPEED CONTROL
Incident Date:
09/28/2019
Vehicle Identification Number:
WAUFNCF59KA******
Summary
I WAS STOPPED IN A TURN LANE TO MAKE A LEFT TURN ACROSS 3 LANES OF OPPOSING TRAFFIC ON A MAJOR US HIGHWAY. . I STARTED THE TURN AND THE PRE-SENSE SYSTEM STOPPED THE CAR AS IT WAS ENTERING THE OPPOSING LANE OF TRAFFIC ALMOST CAUSING A DISASTER AS THE ONCOMING TRAFFIC WAS MOVING APPROXIMATE 50-60 MPH. FORTUNATELY FOR THE ONCOMING CAR, THE LANE ADJACENT WAS EMPTY AT THE MOMENT SO THEY COULD MOVE OVER AND PASS ME SAFELY AS I WAS STUCK IN THE LANE OF THE ONCOMING TRAFFIC WITH THE BRAKES AUTOMATICALLY APPLIED.
0 Recalls
for 2019 AUDI A5 SPORTBACK
Get started for free
Get a free preview of the report