Safety Ratings.
NHTSA's 5-Star Safety Ratings help consumers compare vehicle safety when searching for a car. More stars mean safer cars.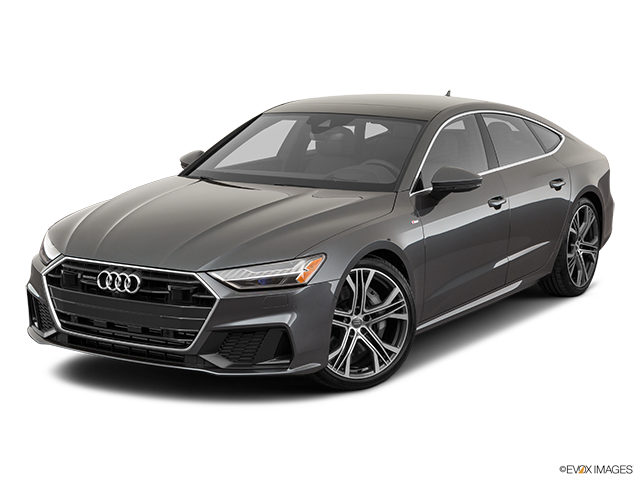 Frontal Crash
Side Crash
Rollover
Overall Front Star Rating
Combines Driver and Passenger star ratings into a single frontal rating. The frontal barrier test simulates a head-on collision between two similar vehicles, each moving at 35 mph.
Combines Side Barrier and Side Pole Star Ratings into a single side rating.
Overall Side Pole Star Rating
Combines Side Barrier and Side Pole Star Ratings into a single side rating.
The Rollover Resistance test measures the risk of rollover in a single-vehicle, loss-of-control scenario.
12 Complaints
for 2019 AUDI A7
Components: POWER TRAIN,FUEL/PROPULSION SYSTEM
Incident Date:
07/28/2020
Vehicle Identification Number:
WAUV2AF25KN******
Summary
SIMILAR TO A COMPLAINT I READ ABOVE, I DO OFTEN HAVE CONCERNS OVER THE START/ STOP SYSTEM. WHEN THE HYBRID SYSTEM IS ACTIVE, IT'S EXTREMELY SENSITIVE IN ACTIVATING (NOT ONLY WHEN CARS ARE IN FRONT BUT ALSO PEDESTRIANS JUST WALKING BY. HOWEVER, SOMETIMES WHEN STOPPED AT A LIGHT, STOP SIGN, ETC. WHEN I PRESS THE GAS AFTER THE ENGINE REENGAGES, THE CAR OFTEN HAS A SERIOUS LAG AND DOES NOT ACCELERATE FOR SEVERAL SECONDS, TO THE POINT WHERE I HAVE TO WONDER IF IT'S ACTUALLY ON (IT IS) THE CONCERN IS THAT DRIVERS BEHIND ME, IF NOT EXTREMELY CAUTIOUS COULD REAR END ME. I'VE BEEN HONKED AT SEVERAL TIMES, DUE TO THIS ISSUE ON NORMAL ROADS. THANKFULLY, NO INCIDENTS OR ACCIDENTS HAVE OCCURRED, BUT I FEAR IT COULD ONLY BE A MATTER OF TIME, IF THIS PERSISTS, PARTICULARLY IN STOP AND GO HIGHWAY TRAFFIC.
Components: FUEL/PROPULSION SYSTEM
Incident Date:
01/27/2020
Vehicle Identification Number:
WAUV2AF27KN******
Summary
THE START STOP SYSTEM IS ALWAYS ACTIVE UPON EACH DRIVING SESSION OF THE VEHICLE. HOWEVER AT TIMES THE HYBRID SYSTEM WHEN IT KICKS IN, DOESN'T ACTIVATE THE ENGINE QUICKLY ENOUGH SO WHEN I PRESS THE GAS PEDAL IT IS NOT RESPONSIVE AND I CAN'T PROPEL FORWARD. THIS IS OF CONCERN WHEN I'M NOT AT A TRAFFIC LIGHT AND THE START STOP SYSTEM KICKS IN DURING STOP AND GO TRAFFIC.
Components: STRUCTURE,UNKNOWN OR OTHER,VISIBILITY/WIPER
Incident Date:
12/10/2019
Vehicle Identification Number:
WAUV2AF21KN******
Summary
YESTERDAY MORNING, WHILE DRIVING NORTH ON I-35 TO WORK, THERE WAS A LOUD "POP" FROM DIRECTLY ABOVE MY WINDSHIELD. THIS SCARED ME TO DEATH! THE SOUND WAS SO FRIGHTENING THAT I DUCKED AND FOR A MOMENT, I THOUGHT I HAD BEEN INVOLVED IN A WRECK BUT QUICKLY NOTICED NOTHING OUT OF THE ORDINARY HAD OCCURRED. TYPICALLY, TRAFFIC IS VERY HEAVY, ONLY MOVING ABOUT 20MPH. HOWEVER, ON THIS PARTICULAR MORNING, TRAFFIC WAS SOMEWHAT LIGHTER AND MOVING ABOUT 40MPH. I HAD CLEAR VISIBILITY ACROSS THE FRONT WINDOW AND COULD TELL THAT NOTHING HAD FLOWN IN MY DIRECTION. I WAS NOT TRAILING BEHIND OR AROUND ANY SUVS, DUMP TRUCKS, OR OTHER LARGE VEHICLES THAT COULD HAVE KICKED UP A ROCK. I ALSO HAD NOT DRIVEN UNDER AN OVERPASS, SO I KNEW NOTHING COULD HAVE FALLEN FROM ABOVE. ONCE I ARRIVED AT WORK, I DISCOVERED THE FRONT SECTION OF MY PANORAMIC ROOF WAS CRACKED AND SHATTERED ALL THE WAY ACROSS THE WIDTH OF THE VEHICLE AND PRESSED INWARD, EXPOSING THE INTERIOR LINING.
Incident Date:
08/29/2019
Vehicle Identification Number:
WAUV2AF22KN******
Summary
2019 AUDI A7 HAS THROTTLE LAG AND AT TIMES SEVERE THROTTLE LAG CAUSING A MULTI SECOND DELAY THAT PUT ME IN IN THE PATH OF ONCOMING TRAFFIC WITH A NEAR HIT. AT THE TIME OF THIS INCIDENT, THE THROTTLE LAG HAD NEVER BEEN THAT SEVERE BUT HAS RESULTED IN A VEHICLE THAT I HAVE NO CONFIDENCE IN WITH RESPECT TO PERFORMANCE. DETAILS: I WAS SLOWING DOWN (1MPH) AND AS THE LANE NEXT TO ME CLEARED, I ATTEMPTED TO CHANGE LANES BUT THERE WAS LIKE A 3 SECOND DELAY. I'D THOUGHT THE CAR HAD STALLED AND THEN IT LUNGED INTO THE ADJACENT LANE AND I ALMOST WAS HIT. IN GENERAL, I CAN HEAR THE TRANSMISSION ENGAGE, BUT NOTHING HAPPENS, NO ACCELERATION WITHOUT SOME HESITATION. FREQUENCY: THROTTLE LAG HAPPENS DURING ALMOST EVERY DRIVE, MULTIPLE TIMES PER DRIVE. I'VE TAKEN VEHICLE TO TWO DEALERSHIPS AND THEY MAINTAIN IT OPERATES AS IT SHOULD. WHILE THESE EVENTS ARE FRUSTRATING, THIS INCIDENT DESCRIBED IN THE BEGINNING WITH A FEW OTHERS THAT HAVE MATCHED ITS SEVERITY CAN ONLY BE DESCRIBED AS UNSAFE. THERE IS A COMMUNITY OF PEOPLE THAT HAVE THE SAME ISSUE AND THUS FAR AUDI HAS NOT RESPONDED WITH A FIX. I FEAR THIS PROBLEM MAY CAUSE AN ACCIDENT.
Components: ELECTRICAL SYSTEM,STRUCTURE,VEHICLE SPEED CONTROL
Incident Date:
07/15/2019
Vehicle Identification Number:
WAUV2AF2XKN******
Summary
1ST- HAVING NUMEROUS SENSOR WARNING LIGHTS COMING ON AT INDISCRIMINATE TIMES WHILE HIGHWAY DRIVING INCLUDING TELLING ME TO PUT MY HANDS ON THE WHEEL WHEN THEY ARE ON THE WHEEL, CRUISE CONTROL SENSOR WARNING COMES ON AND SHUTS OF THE CRUISE CONTROL AND THE LANE GUIDANCE SENSOR COMES ON WITH WARNINGS. I MAY GET ALL THREE WARNINGS APPEAR ON ONE 45 MILE TRIP OR I MAY NOT GET ANY.SOMETIMES IT'S THE SAME ONE 3,4 OR EVEN 5 TIMES.. 2ND MMI SCREEN RANDOMLY DOES NOT COME ON AND HAVING ISSUES AFTER I HANG UP THE PHONE THE RADIO WILL NOT COME BACK ON AND WILL CONTINUE TO SHOW PHONE IN USE. I RESTARTED THE CAR TWO OR THREE TIMES TOUCHING THE SCREEN OVER AN OVER BEFORE IT FINALLY COMES ON. 3) SEATS RANDOMLY DOES NOT REMEMBER OUR KEY FOBS. 4)PAINT IS COMING OFF THE CAR IN DIFFERENT SPOTS PLEASE NOTE THAT ON THE DRIVERS SIDE REAL QUARTER PANEL WHERE THE PAINT STARTED PEELING, THE PEELING SPOTS ARE MANY MANY INCHES AWAY FROM EACH OTHER AND THEY ARE IN VARIED SPOTS AND NOT IN A ROW. 5)SHUTTERING WHEN TRYING TO TURN. IT ACTS LIKE IT DOESN'T WANT TO GO (LIKE SOMETHINGS COMING AT IT) AND IT'S STOPPING YOU. THIS WAS AN ISSUE IN THE VERY FIRST VISIT WHEN A SENSOR HAD TO BE REPLACED AS WELL AS SOMETHING THEY DID TO FIX THE HEADLIGHT ISSUES THEN TO. 6)NEW - WARNING SENSOR WENT OFF SAYING VEHICLE LIGHT MALFUNCTION. WE GOT A PICTURE OF THE TRIANGLE AND THE EXCLAMATION POINT. ALSO THERE A FUNNY LIGHT (LOOKS LIKE A SNOW FLAKE) SHOW 6) WINDSHIELD VISUAL OF SPEED AND ALL THE OTHER STUFF WENT OFF AND ON THEN OUT BEFORE EVERYTHING BLIPPED AND CAME BACK ON. 7) LOCK SENSOR MALFUNCTION. ALL THESE THINGS ARE HAPPENING NUMEROUS TIMES AND HAVE BEEN TO THE DEALER 4 TIMES. FOUND OUT THAT A STOP SALE FROM AUDI WAS ISSUED FOR 2012-18 FOR OUR EXACT VEHICLE AND OTHERS BUT OURS IS A 2019. THIS STOP SALE WAS ISSUED BECAUSE OF NUMEROUS FAULTY SENSORS.
Incident Date:
10/07/2019
Vehicle Identification Number:
WAUR2AF23KN******
Summary
FROM THE ATTACHED AUDI ROCHESTER SERVICE INVOICE: "THERE IS A HESITATION TYPE JERKING SENSATION FELT ON TAKE OFF, IT IS PRONOUNCED SO MUCH THAT IT MAKES YOUR HEAD JERK. ON PREVIOUS VISIT ROAD TESTED SIMILAR MODEL VEHICLE AND FOUND THE SAME JERKING SENSATION, DOES NOT HAPPEN WHEN DRIVING IN AUTOMATIC MODE [WHERE IT IS ALWAYS SILKY SMOOTH ACCELERATION -- AS EXPECTED] IN MANUAL S-TRONIC SHIFT MODE, THE CAR DOUBLE JERKED VIOLENTLY SNAPPING BOTH MY HEAD BACK AND THE AUDI ROCHESTER TECH'S HAD BACK. NOT ONLY WAS IT DANGEROUS, BUT I LOST MOMENTARY CONTROL OF THE CAR. THIS BECOMES MORE PRONOUNCED ON A SMALL INCLINE. AUDI CORP. REP STATED: "THE CAR IS DESIGNED THIS WAY." I ASKED FOR UPDATED FIRMWARE SINCE THE AUDI ROCHESTER TECH STATED DURING THAT TEST DRIVE: "I CAN'T FIX THIS HANK. IT NEEDS A FIRMWARE UPDATE." JDPOWER ALSO NOTICED SOMETHING RELATED, BUT LESS INTENSE: HTTPS://WWW.JDPOWER.COM/CARS/EXPERT-REVIEWS/2019-AUDI-A7-REVIEW . IN MY OPINION AUDI'S LANGUAGE IS PURPOSELY "CYA" IN A WAY: -"TESTED SIMILAR MODEL VEHICLE AND FOUND THE SAME JERKING SENSATION" AS WELL AS AUDI OF AMERICA'S: "THE CAR IS DESIGNED THIS WAY." MY AUDI OF AMERICA [RICK} COMPLAINT NUMBER IS: 190808989 . RICK ALSO REFUSED TO CONTACT GERMANY TO SEE IF THERE WAS A FIRMWARE UPDATE..
Components: ELECTRICAL SYSTEM,ELECTRONIC STABILITY CONTROL,SERVICE BRAKES
Incident Date:
09/01/2019
Vehicle Identification Number:
WAUU2AF27KN******
Summary
AMONG MANY OTHER ISSUES, THE SCREEN THAT INCLUDES THE SPEEDOMETER GOES BLANK DURING DRIVE, BACKUP CAMERA DOESN'T WORK WHILE REVERSING, PRE-SENSE APPLIED BRAKES ON FREEWAY WHILE NOTHING WAS AHEAD AND THE CAR SWERVE HARD ON THE FREEWAY WHILE DRIVING AT SPEED 65 MILES/HOUR
Components: VEHICLE SPEED CONTROL,UNKNOWN OR OTHER
Incident Date:
09/12/2019
Vehicle Identification Number:
WAUR2AF26KN******
Summary
EACH TIME I USE CRUISE CONTROL AND COMPLETELY OUT OF THE BLUE, THE CAR WILL SUDDENLY SLOW DOWN AND AN INDICATOR LANE LIGHT WILL COME ON. I NEVER USE THE LANE ASSIST SO THAT IS NOT THE PROBLEM - I CHECKED THAT FIRST. HANDS ARE ON THE WHEEL, ATTENTION IS FULLY ON THE ROAD AND THERE IS NO DRIVER ERROR. I WILL BE CRUISING ALONG AND THE CAR SUDDENLY (VERY SUDDENLY!) WILL SLOW DOWN - ALMOST AS IF THE ENGINE WAS SHUTTING DOWN. I'M NO LONGER USING CRUISE CONTROL BECAUSE OF THE POTENTIAL DANGER. IN ADDITION TO THIS ISSUE, THE VIRTUAL COCKPIT WILL GO BLACK AND NEVER WORKS CONSISTENTLY I.E. THE BLUETOOTH CONNECTION AND APPLE CAR PLAY. I'VE SPOKEN TO MY DEALERSHIP AND THEY SAID TO CALL AUDI CONNECT. STILL NO SOLUTION AS TO WHY THE PROBLEM HAPPENS. VERY FRUSTRATING.
Incident Date:
07/18/2019
Vehicle Identification Number:
WUAV2AF21KN******
Summary
2 DAYS AFTER TAKING DELIVERY OF A 2019 A7, THE TRANSMISSION/SPORT DIFFERENTIAL LIGHT CAME ON AND INDICATED TO SHUT DOWN CAR IMMEDIATELY DUE A TRANSMISSION PROBLEM. THE CAR HAS UNDER 300 MILES ON IT.
Components: VEHICLE SPEED CONTROL
Incident Date:
06/17/2019
Vehicle Identification Number:
WAUV2AF27KN******
Summary
PURCHASED 2019 AUDI A7 BRAND NEW. CURRENTLY HAVE APPROXIMATELY 2800 MILES (2 MONTH OLD CAR). HAS PRESTIGE PACKAGE WITH DRIVER ASSISTANCE OPTION. THERE HAVE BEEN MULTIPLE INSTANCES WHERE THE DRIVER ASSISTANCE SUDDENLY AND SIGNIFICANTLY SLOWS THE CAR WITHOUT ANY CAR/OBJECT IN FRONT. THIS HAS HAPPENED TO ME ON MULTIPLE OCCASIONS ON LOCAL ROADS (HASN'T HAPPENED ON FREEWAY SPEEDS YET). USUALLY HAPPENS 30-50MPH LOCAL ROADS. THE CAR/DRIVER ASSISTANCE "SLAMS ON THE BRAKES." THIS CAN BE SCARY AND VERY DANGEROUS ESPECIALLY WHEN A CAR IS BEHIND. SECOND ISSUE IS THAT THERE IS A SIGNIFICANT 1-3 SECOND LAG AFTER PRESSING THE ACCELERATOR PEDAL. THIS IS VERY DANGEROUS WHEN TAKING LEFT/RIGHT TURNS WITH CARS ON THE COMING ROAD.
Components: UNKNOWN OR OTHER,ENGINE
Incident Date:
02/06/2019
Vehicle Identification Number:
WAUR2AF29KN******
Summary
2019 AUDI A7: AT A STOPLIGHT, OR STOP SIGN, WHERE THERE IS EVEN THE SLIGHTEST INCLINE, AFTER MY 2019 AUDI A7 HAS COME TO A COMPLETE STOP, AND THE ENGINE SHUTS OFF, WHEN I REMOVE MY FOOT FROM THE BRAKE TO ENGAGE THE GAS PEDAL, THE ENGINE DOES NOT ENGAGE IMMEDIATELY AND THE CAR SHOOTS/ROLLS BACKWARDS. THE ROLLBACK IS SIGNIFICANT ENOUGH THAT THE REAR CAMERA TURNS ON. BECAUSE OF THE LAPSE IN TIME BEFORE THE ENGINE ENGAGES AGAIN, I HAVE NO CONTROL OVER THE VEHICLE WHEN THIS HAPPENS AND AM UNABLE TO KEEP IT FROM SHOOTING BACKWARDS I'VE SPOKEN TO MY SALES REPRESENTATIVE AND AUDI'S CUSTOMER SERVICE, AND HAVE HAD THE VEHICLE LOOKED AT BY TECHNICIANS AT BOTH THE FAIRFIELD AND DANBURY CONNECTICUT AUDI LOCATIONS, AND HAVE NOT BEEN GIVEN A SOLUTION TO THE PROBLEM. IN FACT, I HAVE BEEN TOLD ON SEVERAL OCCASIONS, AND HAVE SAVED VOICEMAILS FROM AUDI SERVICE, THAT ALL THEIR VEHICLES ARE DOING THIS BECAUSE OF THE DOUBLE-CLUTCH, THAT IT IS "COMPLETELY NORMAL," AND THAT I WOULD JUST HAVE TO ADJUST MY DRIVING. BECAUSE I HAVE NO CONTROL OVER THE CAR WHEN IT DOES THIS, AND AUDI IS NOT RESOLVING THE ISSUE FOR ME, THIS IS GOING TO LEAVE ME OPEN TO LIABILITY SHOULD THE CAR ROLL/SHOOT BACK INTO ANY VEHICLE STOPPED BEHIND ME, OR PERSON WHO MAY WALK BEHIND MY CAR WHEN I AM STOPPED. I AM FRIGHTENED TO DRIVE THIS CAR FOR FEAR OF INJURING OR KILLING SOMEONE, AND HAVEN'T DRIVEN THE CAR IN OVER A MONTH.
Components: POWER TRAIN,ELECTRICAL SYSTEM,UNKNOWN OR OTHER
Incident Date:
01/19/2019
Vehicle Identification Number:
WAUU2AF21KN******
Summary
I GOT THIS BRAND NEW CAR. HOWEVER IT HAS MAJOR DEFECTS PERTAINING TO DRIVE SHIFT, AUTO SHUT , SENSORS, SPEEDOMETER AND THE VIRTUAL COCKPIT. I WAS DRIVING ON FREEWAY 5 SOUTH BOUND WHEN I SHIFT THE GEAR FROM "D" TO "S" AND IT WENT INTO NEUTRAL AND IT LOST POWER. THERE WERE CARS BEHIND ME WHO WERE HONKING AND SCARED FOR MY LIFE. THE CAR WAS A BRAND NEW WHEN I GOT IT, I GOT THE CAR ON 11/29/2019. ON I DROVE IT FOR ONLY THREE WEEKS BEFORE I STARTING TO HAVE ISSUES WITH THE VIRTUAL COCKPIT WHERE IT BLACKS OUT. THE SPEEDOMETER BLACKS OUT COMPLETELY AND I WOULDN'T EVEN KNOW THE SPEED OF MY CAR. UPON THIS ISSUES AND THE OTHER RELATED ISSUES RELATED TO VITUAL COCKPIT I TOOK THE CAR BACK TO DEALERSHIP. THE DEALERSHIP KEPT THE CAR FOR TWO AND RETURNED THE CAR BACK TO ME ON 1/18/*2019. I STARTED EXPERIENCING ISSUES WITH THE AUTO/SHUT AS WHEN THE CAR GET STOPPED AT A SIGNAL, IT DOESN'T START AND HAVE TO RESTART THE CAR AND LATER I HAD ISSUE WITH DRIVE SHIFT GOING INTO NEUTRAL WHEN I SHIFT IT FROM "D" DRIVE MORE TO "S" SPORTS MODE ON FREEWAY. PLEASE CONTACT ME TO GET MORE DETAIL ON IT. *TR
1 Recalls
for 2019 AUDI A7
10/03/2021
CAMPAIGN NUMBER: 21V159000
AIR BAGS
An incorrectly manufactured air bag may not deploy properly, and could also eject plastic debris into the passenger compartment, increasing the risk of injury during a crash.
Campaign Number:
21V159000
Manufacture:
Volkswagen Group of America, Inc.
Summary
Volkswagen Group of America, Inc. (Audi) is recalling certain 2021 Audi RS6 Avant, RS7, 2020-2021 A6 Allroad, S6 Sedan, S7, 2019-2021 A6 Sedan, and A7 vehicles. The score line on the passenger air bag may not have been manufactured correctly.
Notes
Owners may also contact the National Highway Traffic Safety Administration Vehicle Safety Hotline at 1-888-327-4236 (TTY 1-800-424-9153), or go to www.safercar.gov.
Get started for free
Get a free preview of the report