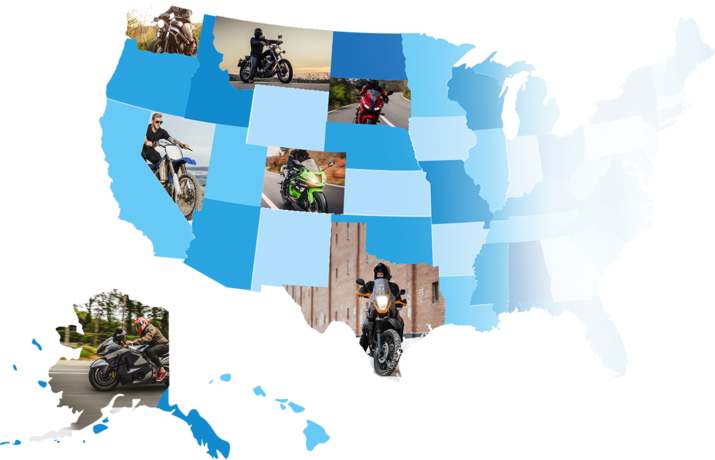 Motorcycle VIN Lookup & Check
Check Motorcycle VIN Number and get a Complete VIN History Report
What's a motorcycle VIN check?
The VIN bike lookup is a complete report containing the history of the motorcycle. You can receive all the information about a motorcycle from the time it was made until now. You may want to request this report whenever you purchase a motorcycle. This way you can authenticate any information the motorcycle owner does not say about his bike because some unscrupulous dealers do not disclose all the information about their motorcycles especially if they think they will scare you into not buying their bikes. Besides, they can also forget some basic details about the history of the motorcycle. A motorcycle with a good history without recall, repairs, and accidents is expensive so the dealer may not disclose these facts to you.
In most states in the United States, you can get a VIN motorcycle check online or offline. If the order is offline, you should go to your local DMV or other similar firms. If you want to order it online, you should visit their website. Alternatively, you can pay and receive a special report on the history of the motorcycle you are interested in.
What does a VIN Motorcycle Number look like?
VIN for your motorcycle is not something you should memorize. But understanding where it is written is worth your effort. The VIN of a motorcycle is made up of 17 digits and is similar to a fingerprint for your motorcycle history. It displays details of the bike model, year of manufacture, and location, among other things. In short, a VIN bike is the key to your bike. This also applies to cars. VIN is mandatory for any vehicle.
VIN is available on registrations, insurance cards, and titles. But for those who find studying papers a little too time-consuming, take the time to understand where it is in your two-wheeled vehicle. If you want to buy some parts for your bike, having a VIN is important because you get exactly what you want and, in most cases, the person selling you these parts will need it.
Where is the VIN?
Now that you understand what a VIN looks like, where do you find it when you go with your two wheels? The VIN area for motorcycles is almost identical to that for cars. You can find it in the steering neck of the bike. However, some VINs are recorded on vehicles near and under the cylinder. To see it, sweep the handles to the left and look to the right side of the motorcycle frame where the steering wheel is mounted on the frame. It's vertical there on the frame.
However, if you have an ATV or similar, the location depends on the manufacturer. In most cases, you will find it in the frames placed on the left side under the shifter. There may be other places where an ATV VIN can be obtained depending on its manufacturer, so make sure that when you buy your ATV you ask the manufacturer where to find it.
Why is the Motorcycle VIN Check Important?
Testing a motorcycle VIN is the best way to know the real identity of a motorcycle and to determine if a second-hand bike has been stolen or not. Automotive registration agencies and automakers maintain a complete database linked to these codes, so they can identify a bike quickly and accurately by searching directly on the code.
The information provided by these agencies is important for people who need to buy used motorcycles. For example, these reports provide compelling reasons for cost overruns in the past. It also helps not to buy a motorcycle that has been involved in major accidents in the past, with repairs that could not be fully completed. It also saves you from buying a stolen or rescued motorcycle.
So why not set aside some time and look at the VIN on the motorcycle you want to buy and avoid expensive future repairs and other issues on your motorcycle? A VIN history report is important because it can save your life if bad alterations were made to the vehicle.
What are the contents of the Motorcycle History Report?
The motorcycle history report reveals very useful statistics for motorcycle dealers, buyers, lenders, insurance companies, and auctions about whether a particular bike has reported accidents, the last odometer reading, OEM recalls, and the number of previous owners. This information is often collected from various reliable sources such as insurance firms, manufacturers, government agencies such as the NHTSA, and sometimes police reports. The motorcycle history report should provide all the information related to the repair history but does not include complete details about the history of the bike. Here's what to expect from a motorcycle history report:
Last reading recorded on the odometer- you will be able to know the total number of miles the motorcycle has traveled since it was made so far.
Details about any bicycle theft.
When the motorcycle was badly repaired due to damage to its frame.
Any data on liens and loans. You will be able to determine if the previous owner of the bike had outstanding debts.
Details of any road bike accidents may have been involved, in the past and all details regarding post-accident repairs. Therefore, you will be able to order a free Motorcycle VIN lookup.
Technical specs about the bike you are concerned about such as its weight, volume, engine type, etc.
Free Motorcycle VIN Lookup
By nature, people like free stuff. Many times when you find yourself moving from one site to another trying to get free Motorcycle VIN test reports. You usually get what you need (though not everything) while sometimes you end up with a sour deal. But what should you choose? Paid Motorcycle VIN check or free? This is the truth.
Generally, firms offer two types of reports: paid (VIN check) and free (VIN decoder). free decoder contains only motorcycle features such as machine model, specs, fuel efficiency, market value, warranty, etc. is very comprehensive because it provides special information about the past of the motorcycle such as registration, care, accidents, etc.
The fact is that most firms will provide you with a VIN checker. But you should know that a free report is not as common as it sounds. Not much information is provided but the original details. So, if you need full details about a particular motorcycle, you should be willing to break the bank for that. Remember that you get the amount of what you are willing to donate in return, and it is worthwhile to give more to get more, especially when you buy a motorcycle that has been used.
VIN Check for Dirt Bikes
Although both motorcycle and dirt bike are two-wheeled vehicles, there are certain factors that set them apart. The main differences are in the design, construction, and materials used.
The dirt bike has a small and light frame designed for a quick ride. It is designed to withstand a lot of adverse conditions. It is designed to be suspended with a spring shock system for this purpose.
The dirt bike has smaller wheels with better grip on the surface. When it comes to size, dirt bikes are smaller than motorcycles. Because of the nature of their high-altitude travel, they are at high risk. They tend to steal and so it is important to get a VIN check whenever you want to buy a used dirt bike. By creating a VIN registration for your dirt bike, you can track and ensure the safety of your bike from theft. Fortunately, the same procedure used to test a VIN on a motorcycle is the same procedure used for dirty bicycles.
How Can You Check the VIN Number of a Motorcycle?
Thanks to our easy-to-use and updated VIN tool, it would be like taking a walk in a park. We update it regularly and add more details to make sure you get whatever you want. Don't believe our word, give it a go and you will love it! 1, 2, 3, 4 easy steps, and within a few minutes, you have all the statistics about the bike you intend to buy. Here are 4 steps you need to take:
Tap on the link, you will see the VIN search bar at the top of the page.
Enter the VIN of the bike you want to know about in the corresponding viewing field.
Click the "Check VIN" button.
In the meantime when you press the VIN check button, a special history report about the motorbike you are interested in will appear on the screen in a few minutes. The next step is to study the report and understand it.
The process of knowing the history of a car such as repatriation, accidents, lien/loan reports, damage, coverage for miles, among other things, has never been so fast and straightforward!
Do not let this precious opportunity be taken away from you. Capture and secure the complete VIN inspection report of the vehicle you are interested in. Information is collected from reliable sources so that you can rely on it without fear or doubt or anything!
Other Links
Other Services
Alaska
Alabama
Arkansas
American Samoa
Connecticut
DC
Delaware
Florida
Georgia
Guam
Hawaii
Iowa
Idaho
Illinois
Indiana
Kansas
Kentucky
Louisiana
Massachusetts
Maryland
Maine
Michigan
Minnesota
Missouri
Mississippi
Montana
North Carolina
North Dakota
Nebraska
New Hampshire
New Jersey
New Mexico
New York
Ohio
Pennsylvania
Puerto Rico
Rhode Island
South Carolina
South Dakota
Tennessee
Virginia
Virgin Islands
Vermont
Wisconsin
West Virginia
Wyoming
Get started for free
Get a free preview of the report